This Lip Plumper Is Going Viral On TikTok —It Actually Works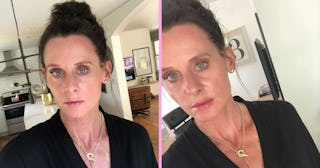 Courtesy of Katie Bingham-Smith
I know we've been hiding under masks for some time, but there are those of us who are all about the lips. As in, when our lips look good, we feel good. And I am one-hundred percent in that club.
I like the way my lips look when they are fuller, hydrated, and the perfect pinky shade.
I've tried a few lip plumping glosses which have been fun and tingly. I like how they make my lips shine and give them a little extra something.
My teenage daughter is into lip grooming too so, when she saw this viral TikTok about an Amazon lip plumping gloss (that's about $10) she sent me the link knowing I'd tell her to order it ASAFP.
I couldn't wait to slather it on my lips after seeing the videos about it. One, I was hoping it would work like the TikTok-ers said it would, but I also like to see for myself how real these products are.
As soon as we got the little bottles in our hands my daughter and I tried it out. You could feel it working immediately and it felt like I had rubbed a thousand peppercorns on my lips after a few minutes. It went from feeling the gentle tingle my other lip plumpers delivered, to an all out spice-fest happening on my kisser.
It's not painful, per se, but it does tingle enough to come close to a stinging sensation. But if you are into your lips, I'm pretty sure you won't mind the pain after looking in the mirror.
After all, some of us do things like wax our upper lip, get bikini waxes, lip fillers, Botox — and, I don't know, give birth to actual human beings.
So, an intense tingle in exchange for juicy lips is worth it, amiright?
Here are my thoughts and tips after my daughter and I tried it a few times:
1. Apply a lot of the lip plumper. You can't go light to see what happens if you want your lips to be fuller and redder. You have to really go for it.
2. Apply on your lips and just outside of your natural lip line too. I think this is why the elixir makes your lips look fuller. It's actually getting into the skin around your lips making them look fuller, which is the whole point.
3. Use the lip oil that comes with it at night. I put on the lip plumper (a thin layer) then applied the oil after and not much happened. My daughter let me know I didn't use enough and the oil probably canceled out what the plumper was trying to do (after a huge eye roll, because hello, I know nothing).
4. This works really well for the money. Did it look like I got lip fillers, and will I give up on getting my lip fillers every eighteen months and just use this? No. But it did expand my lips — and I think it's a great product for my teenage daughter who also wants lip fillers (but I keep telling her no).
5. The lip oil and plumper make my lips feel hydrated for a really long time, which I love. However, the puffy look goes down after a bit so I'd advise to reapply about five minutes before running into your ex, taking a selfie, or walking (slow-mo style) into your class reunion.
6. I like how this product has natural products like ginger extract and vitamin E.
If you are looking for a pair of slightly swollen (and very shiny) lips this gloss is perfect. It's fun, makes a noticeable difference, and genuinely feels good on your lips if you can handle the tingle. You can also use it, then dab on your favorite color for a more dramatic effect, but like I said, to make the biggest difference make sure you outline your lips and don't get skimpy with it.
The picture above is of me before using the lip plumper to give you an idea of what my lips look like without it.
The picture below is me after using the plumper and waiting a few minutes to feel the burn.
You know what they say: "No pain, no gain"— and apparently, the lips are no exception.
This article was originally published on