The Viral TikTok 'Boat Dip' Recipe Is Freaking Amazing — And Totally Easy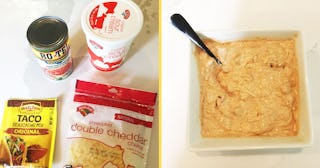 Courtesy of Katie Bingham Smith
I've always loved a good dip. In fact, I have no problem making a meal out of a package of onion soup mix, a container of sour cream, and a bag of Ruffles. After mixing up that trashy concoction, I'll even lick the spoon.
Every family function of mine has a dip, and some of my favorite childhood memories are of me, my mom, and sisters gathered around the television having some kind of dip for dinner instead of a meal.
I am also a sucker for Mexican food, so when I see a new recipe trending that has taco seasoning, cheese, and sour cream in it, I make it my purpose to try it out as soon as fucking possible.
I found the Boat Dip recipe while on TikTok with my daughter. We are always looking for new food trends to try, and TikTok has been our go-to source.
I learned it got its name because it's something that can easily be made, thrown in the cooler, and taken on a boat.
Well, I don't have a boat, but I didn't let that stop me from going to the store and getting everything. After scrolling, I needed to cure my dip craving which set in as soon as I saw this delectable dip being scooped up by some Fritos. Aww yeah.
After all, I want nothing more in this life than to enjoy a cold sour cream based dip with a thick, salty corn chip on my kitchen floor, on the beach, or wherever the hell I want to eat it.
Another appealing thing about this recipe is that it's so easy and cheap. You may even have some of the ingredients on hand this minute. My advice is you go check and get mixing.
All you need is: 1 package of shredded cheese (I used extra sharp cheddar and it was so good, but pepper jack would be amazing too).
1 container of sour cream
1 can of Rotel
1 can of corn (this is optional and I left it out because it seemed too healthy)
1 packet of taco seasoning
Mix this all together and let it set overnight.
Now, I must be honest and tell you I did not do that last step before I tried it — so if you can do that, you are better than me. I had to try it right away and it was amazing. Chips and dip are my weakness, and asking me to wait overnight to try it is harder than not peeking into my stocking on Christmas Eve night after my parents had filled them and gone to bed.
However, the next morning I had to take another dive into that dip bowl, and yes, it was even better.
My kids absolutely loved it and thought it would be good with olives too, so we'll do that next time (because there will totally be a next time, since container one is already gone).
If you make tacos regularly, this would be awesome spread on a flour tortilla and topped with all your favorite taco fillings.
It would also be a great layer in a 7-layer dip and could be topped with sliced tomatoes, olives, lettuce, and onions.
See how versatile this is? I mean, you'd be silly not to try it.
I'd even go as far to say this might be my new favorite dip and replace my old taco dip recipe I used to take to every party I was invited to, even though I think that recipe was half the reason I was invited to so many in the first place.
It will be a gamble but I'm willing to see if it goes over as well as my old recipe.
So, the next time you go to a gathering, hit the beach, or you aren't sure what to make for dinner, give this a try.
You don't have to eat it on a boat in order for it to taste good. I know this because I enjoyed half the container in my kitchen this morning and didn't feel like I was missing out at all. It may be called "boat dip," but it's just as good over the kitchen sink.