T.I.'s Daughter Unfollows Him After His Public Comments About Her Hymen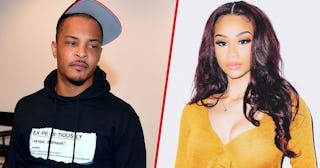 Prince Williams/Getty and Deyjah Harris/Instagram
T.I.'s daughter appears to be standing up for herself and her privacy after all those comments about her hymen
Last week, rapper T.I. appeared on the Ladies Like Us podcast, where he revealed that he accompanies his daughter, Deyjah, to yearly gynecologist visits. OK, nothing weird about a dad being invested in his daughter's healthcare, but that's unfortunately not the whole story. Nope, the rapper also revealed that he insists that the doctor check Deyjah's hymen and then tell him whether it's intact.
"Not only have we had the conversation. We have yearly trips to the gynecologist to check her hymen," he said. "Yes, I go with her."
He also admitted that the doctor invoked doctor-patient confidentiality in these cases, but that he coerces Dayjah into giving him permission to discuss her private medical information.
"He's like, 'You know, sir, I have to, in order to share information' — I'm like, 'Deyjah, they want you to sign this so we can share information. Is there anything you would not want me to know? See, Doc? Ain't no problem.'"
Obviously, the internet pretty much imploded. And for good reason. This is super weird, controlling, invasive, and just gross. For starters, science has shown that virginity isn't a physical state. It's actually a made-up social construct and there is no way for a doctor to examine your body and tell conclusively whether you've had sex.
https://twitter.com/jetpack/status/1192187638511554560
And amid the fallout, it seems like Deyjah has found her own voice. As tweets that were critical of her father started pouring in, she was liking them on Twitter. Specifically, she hit that "like" button on tweets that described T.I.'s behavior as "disgusting," "possessive," and "controlling."
And now, it looks like Deyjah has gone a step further in showing her public disdain for her dad's behavior. She's unfollowed him and other family members on Twitter and Instagram.
Ultimately, we don't know what's going on behind the scenes here. We don't know if Deyjah's reaction is just to the fact that T.I. decided to go on a podcast and share all of this with the world, or if it's to the fact that he wanted to check her hymen at all.
But the poor girl is a college freshman and the entire world has been talking about her hymen for a week; can you imagine? I feel a little gross even writing that, because everyone should stop fixating on Deyjah Harris' reproductive system and mind their own beeswax. However, if all this coverage helped Deyjah see that what her dad was doing was objectively not OK, and if it helped her find her voice to stand up to him and make this awful practice stop, then it's good that it happened. And Deyjah, we're sending nothing but love, light, and strength your way. Here's hoping you can continue to take back ownership of your body because no one should have that but you.
This article was originally published on