Are You Tipping Your Hotel Housekeeper? You Should Be.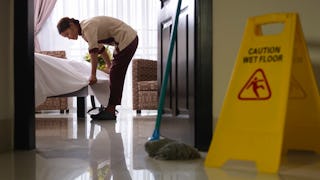 diego_cervo_ Getty
I love to get away a few times a year with my three kiddos and stay in a hotel. They love the pool, free candy at the service desk, and the mini bottles of shampoo and lotion. And for some reason, I could throw down a mean French Toast Casserole with perfectly cooked bacon, but it will never compare to the bagel and powdered doughnut they get at the continental breakfast most places provide.
It doesn't matter how many times we travel, they act as though they've never experienced such luxury before.
I happen to love staying in a hotel for different reasons: No cooking or cleaning means I get to truly bond with my family. And honestly, I kind of dig the free samples of shampoo and lotion, too. And if an establishment leaves mints next to the bed, well, I feel like a queen. It's nice to be pampered every once in a while.
I try hard not to let our room look like a bomb went off, but the truth is, when you and your children are all staying in a small room, shit can happen really fast. Trash cans overflow, beds don't get made, and towels end up on the floor. So, after enjoying a day of sightseeing, it's nice to come back to your hotel, and plop down on the bed in your clean room and see what's on the television without having to lift a finger.
And that is exactly why the people who do all those things you don't want to do — like change your sheets, take out your trash, and basically pick up after you and your family — deserve a tip. Yes, a tip.
According to an article published on Medium, fewer than a third of people who stay in a hotel leave a tip. Gasp. And for the record, housekeepers' wages could use some supplementing.
While some people think tipping has gotten out of control, hotel housekeepers deserve the few extra dollars a day for all they do. They basically make sure you have everything you need for your stay, pick up your trash, make sure you have fresh towels, and make your bed for you. We frequent a place that even sets my kids' stuffed animals up in silly positions on the bed. My kids love it, and so do I. You better believe that kind of service is appreciated, and it deserves more than just a "thank you."
The Bureau of Labor Statistics reports the average hourly rate for these housekeepers is $11.46 an hour, which is comparable to that of desk clerk. But let's face it, desk clerks do not clean up blood, boogers, human excrement, and other bodily fluids. They don't scrub away toilet stains, or pick up trash off the floor. They don't have to carry extra beds up to rooms, and fluff pillows. They never make sure the toilet paper roll is facing the right way.
Hotel housekeepers' jobs are strenuous. I mean, as moms, we all talk about how much we hate to make beds, and the fresh hell known as dealing with fitted sheets. These fine folks do that shit all damn day while breathing in harsh cleaning chemicals.
They work long hours, including late nights and weekends. And while we are out exploring a new village or city, they are scrubbing toilets, tubs and, in some wild cases, walls. Basically they are cleaning our messes so we visit them again. If that doesn't deserve some extra cash, I don't know what does.
Some places leave envelopes, which makes it extra easy to remember to throw in a $5, but sometimes they don't. Just because there isn't a reminder, doesn't mean they don't accept tips; they most certainly do, and they deserve every extra cent they get.
So during your travels, leave a few extra bucks. You are sure to make the person who cleaned your room an happier person. It's one thing to clean up after your own family, but quite another to clean up after strangers — and we all know there are times when housekeepers see things in hotel rooms no one should have to see, much less clean up.
This article was originally published on