Cultivate Some Creativity With These 11 Super-Cute Tractor Coloring Pages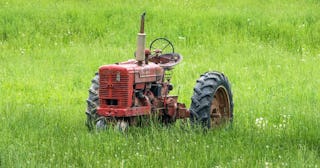 Randy Fath/Unsplash
If you've ever watched Little House on the Prairie, you know what there was a time before tractors. As a matter of fact, for most of history, tractors haven't existed. People pulled the precursor to farming "machines" behind horses or mules. Sometimes, they even used their own brute strength and wills to survive. Farming in the early days wasn't easy. As time plowed on, though (do you see what we did there?), farmers began experimenting with bettering their tools and processes. Now, we have an assortment of bright, shiny, gas-powered tractors that make plowing, planting, fertilizing, and harvesting a field of corn go 100 times faster than it did 200 years ago. And in celebration of that progress — and, well, just because they're a ton of fun — we decided to create a collection of tractor coloring pages to help you cultivate some quality arts and crafts time with your little ones.
Because with big, shiny, loud machines come little, loud farming fans, right? If your kiddo is obsessed with tractors, they probably also love farms and gardens. That's great! Throwing a farm-themed party is easy. Plus, getting your kiddo into the food-growing process makes it a lot more likely that they'll eat those colorful veggies. For you, though, it might equal a ton of headaches. Literally. Farm equipment and its sister machinery, construction equipment, make a ton of noise! So, when you're looking for a nice activity to calm your future member of the FFA, coloring activities just might be the (quieter) answer.
And what a better way to spend time coloring than by coloring their favorite thing: tractors! These tractor coloring pages are sure to entertain even your most rowdy farmhand. Bonus: We've got enough farm-themed coloring pages to keep them busy till the cows come home. When they finish coloring these tractors, they can mooooove on to our garden coloring pages, horse coloring pages, pig coloring pages, chicken coloring pages, and yes, cow coloring pages. Or, if heavy machinery makes them happy, they'll enjoy our truck coloring pages and train coloring pages.
Free Printable Tractor Coloring Pages
Tractor Page No. 1
What do you really know about tractors? To start, it's worth pointing out that "tractor" is a generic term for a ton of different farm equipment. Take, for instance, the very first farming machine invented. The mechanized reaper — the 1831 brainchild of a Virginia blacksmith (and farmer, obviously) — was just a simple structure you could pull behind a couple of horses and "reap" the grain you sowed the previous season.
Tractor Page No. 2
Several years later, a more famous and long-lasting name entered the world of farm equipment. John Deere invented and began mass-producing the self-cleaning saw in 1837. We tried to find out if even that OG piece of equipment was painted "John Deere green" but didn't have any luck.
Tractor Page No. 3
Actual farm equipment development took off a decade later, though. With the invention of the steam engine came the natural evolution of the steam-powered tractor. The first steam-powered piece of farm equipment was a threshing machine. A thresher helps remove seeds from the stalks and husks of grain plants. Being able to harvest your seed means you won't need to buy any for the next season. And here's an interesting point: These early inventions were about 40,000 to 60,000 lbs! That's a lot of steel.
Tractor Page No. 4
So, what ultimately replaced steam power? Something even easier to operate: the combustion engine. By the late 1800s and early 1900s, gas-powered tractors took over and made every farmer's life significantly easier. That first gas-powered tractor was produced by none other than Henry Ford himself.
Tractor Page No. 5
In the early 1900s, another famous name was beginning to emerge on the farm equipment scene. Hold Caterpillar tractors that ran on tracks (like tanks) instead of wheels were used in two large construction projects in California. Soon farmers and construction workers saw the advantages of replacing wheels with tracks.
Tractor Page No. 6
By 1934, North American farmers had weathered the Great Depression, but not all companies that supplied heavy farm machinery faired well. However, one company emerged more popular than ever. Any guesses? Surprise, surprise! It was good ol' John Deere.
Tractor Page No. 7
Farming innovation continues still. These days, companies are looking toward the future by working on autonomous tractors, or tractors that drive themselves. If a farmer doesn't need to spend hours of their day in a tractor, it gives them more time to do other farm jobs. On the other hand, since most modern farms are owned by large corporations and employ tons of humans, replacing tractor drivers with driverless tractors means that many people could lose much-needed work.
Tractor Page No. 8
Tractors aren't the only way farmers and farming corporations have innovated the industry. Nowadays, most crops have sensors in the ground or attached to plants to track everything a farmer might need to know about their harvest, from how many days of sun their corn has had to how much water their soybeans need. There are even apps farmers can use to help them keep track of every aspect of farming life.
Tractor Page No. 9
You might have gotten the sense that there are multiple kinds of "tractors," but do you know how many different tractor types there are and what work they do? There are now twelve different tractor types. They include earthmovers, rotary tractors, garden tractors, implement carrier tractors, row crop tractors, industrial tractors, utility tractors, and orchard tractors. Depending on what kind of job you're doing will determine what type of tractor you use.
Tractor Page No. 10
Wanna see a tractor? You're in luck! With roughly 16 million tractors rolling across the Earth, it should be pretty easy to spot one — and maybe even hitch a ride. And contrary to popular belief, not all tractors move at a slow and leisurely pace. In 2012, Sergey Sukhovenko upgraded his tractor's engine. It reached a top speed of 75 miles per hour.
Tractor Page No. 11
Did you know trahere is the Latin word for tractor? It means "an engine meant for wagons or other implements." Here's something even more interesting: Some tractor tires are even larger than people!
Click here to print all of the tractor coloring pages at once!
This article was originally published on