Netflix Drops Trailer For 'The Princess Switch 3' And Yes, Please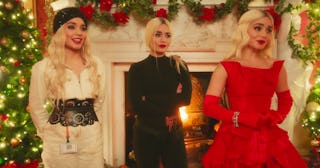 Mark Mainz/NETFLIX
Get ready to spend another holiday season in Montenaro!
Good things come in threes — at least according to Netflix. The Princess Switch 3: Romancing The Star is coming, and a new trailer out today will have fans counting down the days until the holiday hit is ready to stream.
A Netflix press release about the eagerly anticipated third film reads, "When a priceless relic is stolen, Queen Margaret (Vanessa Hudgens) and Princess Stacy (Vanessa Hudgens) enlist the help of Margaret's audacious look-alike cousin Fiona (Vanessa Hudgens) who teams with a dashing, mysterious man from her past to retrieve it… rekindling the sparks of a tantalizing Christmas romance and resulting in a very unexpected switch."
"Merry Christmas from Montenaro," the clip begins. The quaint little kingdom is getting ready to host an international Christmas festival, with a special visitor all the way from the Vatican. Queen Margaret is presented with the priceless Star of Peace, and in typical rom-com fashion, you just know hijinks are about to ensue. Yep — the precious heirloom is stolen — and the monarch must team up with Princess Stacy (also played by Vanessa Hudgens) to find it.
"If the police don't have any leads, it's up to us to come up with something they haven't thought of," Stacy says.
"We need a person who actually thinks like a criminal," Queen Margaret replies. Enter the scheming Lady Fiona (yet again played by Vanessa Hudgens, who is apparently the busiest woman in Hollywood), who agrees to leverage her shady connections to help get the Star of Peace back where it belongs.
Of course, she'll need the help of a handsome, bad boy ex to do so — it is a rom-com, after all. Remy Hii plays Peter Maxwell, a man with a plan. How exactly should the royals recover their stolen star? "You steal it back," of course, according to Peter — who I presume will also be stealing back Fiona's heart somewhere along the way.
After the first film in the series debuted in 2018, Netflix dropped a sequel in 2020. Now, just a year later, we've got a perfectly holiday-cheesy trilogy on our hands. And while the films may not exactly be critical darlings, fans seem to love the holiday fun. Which makes you wonder, just how many times is Netflix going to make these poor princesses switch? How many roles can Vanessa Hudgens possibly play? Is this going to turn into a The Nutty Professor type situation? Time will tell and obviously we will eagerly watch every single installment with a giant mug of cocoa nearby.
The Princess Switch 3 drops on November 18th.