Learn These 40 Iconic Trolls Characters' Names For Instant Cool Mom Cred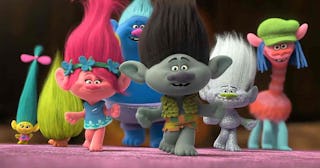 20th Century Fox
"I've got this feeling… inside my bones. It goes electric-wavey when I turn it on." Now it's stuck in your head, too — you're welcome. Whether it's "Bye Bye Bye," "Pop," "Cry Me A River," or "Can't Stop the Feeling," we all know JT can get us up on our feet and singin' along. Let's be honest: He's the reason we can't stop watching Trolls with our kids over and over (and over). Sure, it's an adorable movie — like reeeaaalllyyy adorable — but the fact that it features our favorite pop prince of the '90s sure doesn't hurt. As much as your kids watch it, you likely know the Trolls characters' names by heart, or the main ones anyway (Poppy and Branch, anyone?). But just in case your memory needs jogging, we've got you covered. Below, you'll find a gigantic list of every major character seen in Trolls and Trolls 2, AKA Trolls World Tour.
Admittedly, we're partial since we grew up during the heyday of Magic Trolls dolls. But we firmly believe that Trolls and Trolls World Tour are some of the best kids' movies of the last decade. This DreamWorks duet features a star-studded cast, touching storylines, catchy music, and a throwback to our favorite retro toys. Plus, you know, there's a troll that farts glitters. How could you not love that? We know our kids sure as heck do.
If you don't know every character by name, consider this your go-to guide, broken down by movie. Now, you can impress your kids with your vast knowledge of all things Trolls. Keep reading for 40 iconic characters from this fun (and funny) franchise. As Poppy would say, "Hair we go!"
Trolls Characters' Names
Below, we're gonna give you a quick reference list of the characters that make up the colorful storyline in Trolls — many of which are brought to life by actors we all know and love. In fact, if you listen closely, you'll likely recognize plenty of voices! Whether you do or don't, though, it's beneficial to know the names so that you know who on earth your kids are referring to when they talk your ear off about their favorite plot point. So, here's a quick refresher (just in case) of 22 must-know characters from Trolls.
Poppy: Poppy is also known as Queen Poppy. She's the daughter of Peppy and the lead character in the Trolls movies.
Branch: This is Poppy's boyfriend. He's a member of the Snack Pack and second in command when Poppy is unavailable.
Biggie: Biggie is one of the larger trolls and a supporting character in the Trolls movie. He is also a member of the Snack Pack.
Mr. Dinkles: Mr. Dinkles is a small greenish-yellow worm with pink stripes across his body. He has purple eyes, blue lips, and a dark green top hat. He is Biggie's best friend.
Guy Diamond: Guy Diamond is a troll with silver skin who is covered in sparkly white glitter. His voice has an auto tone, and he walks around naked.
DJ Suki: DJ Suki has hot pink skin and orange hair. She also wears a pink wish stone on her belly button.
Prince Gristle: Prince Gristle is known as Gristle Jr. He is later crowned king of the Bergens and becomes Bridget's husband.
King Gristle Sr.: King Gristle Sr. is Prince Gristle's father. He is a dark green Bergen with grey hair. His crown is purple, and he wears yellow flip-flops.
More Trolls Names
King Peppy: This troll is the retired king of the Pop Trolls and Poppy's dad.
Grandma Rosiepuff: Grandma Rosiepuff is Branche's grandmother and a deceased character.
Moxie Dewdrop: This troll has magenta skin, and pink nose, and eyes. Her hair is light pink hair and her cheeks are covered in glitter. Moxie wears a yellow and orange dress.
Satin and Chenille: These sisters are conjoined by their hair and have very opposite personalities. Satin is pastel pink and Chenille has lavender-blue skin.
Mandy Sparkledust: Mandy Sparkledust has yellow skin and red hair that sticks straight up. Her eyes are pink, her nose is blue, and she rocks an orange and pink dress.
Aspen Heitz: This troll is sporty and occasionally rides a skateboard. His skin is orange and his hair is bright green.
Creek: Poppy used to have a crush on Creek. He is one of the bad guys in the Trolls movie.
Even More Trolls Names
Sugar Cookie Loaf: This troll has bright purple skin and a dark purple nose. Her hair sticks right up and is a light blue. She also dons a yellow and green dress.
Bibbly: Bibbly isn't a main character, but he is a shopkeeper in a bib shop in Bergen Town.
Cooper: Cooper looks a lot like a fuzzy giraffe. He is one of the taller trolls. He is always smiling and is filled with energy.
Smidge: Smidge is one of the smallest trolls in the kingdom!
Fuzzbert: You can't see this troll's face. He is a mass of neon green hair, and the only thing visible are his feet. '
Bridget (Bergen): Bridget used to be a scullery maid and is now the queen of the Bergens.
Chef (Bergen): Chef is a bad guy! He is a caretaker who traps trollz.
Trolls World Tour Characters' Names
The first Trolls movie was a mega-hit — filled with big names, awesome tunes, and a story of friendship and growth. What could be better than a sequel? Trolls World Tour gave us something to look forward to in an otherwise bleak 2020. Bringing back the music that made the first such a smash (plus so much more), the second movie in the Trolls universe was a no-brainer for moms needing something to occupy their kids while spending so much time at home. If you, like us, have watched it again and again, you probably know the characters as well as the ones in your favorite after-bedtime streaming series. But, as a refresher, here's a list of all the new characters we met in Trolls World Tour… all 18 of 'em.
A little note: Characters from the first movie aren't included in this list since we included them above.
Queen Barb: Queen Barb is short for Queen Barbara, and she is the queen of the Rock Trolls.
King Trollex: Trollex is the king of the Techno Trolls. He is affectionately known as DJ King Trolley. He is an easy-going king who loves to have fun.
Delta Dawn: Delta has orange skin and big red hair. Her lower half is the body of a horse, and she's basically a mini centaur troll. Delta Dawn is the mayor of the Country Trolls.
Tiny Diamond: Tiny Diamond has silver glittery skin, blue eyes, and metallic hair. Although he's a baby, his voice is extremely deep. He is the son of Guy Diamond.
Hickory
Dickory
Prince D
Chaz
King Thrash
Queen Essence
Trollzart
The Reggaeton Trolls
Legsly
King Quincy
Pennywhistle
Riff
Debbie
The K-Pop Gang
Well, we've reached our (not so) dramatic conclusion. Now, if you didn't already, you know the names of 40 classic characters from Trolls and Trolls World Tour. Go forth and show your kids that you're hip to the lingo. You're not like a regular mom; you're a cool mom — if you're picking up what we're putting down.
This article was originally published on