Flower Power! 10 Tulip Coloring Pages For Your Budding Artist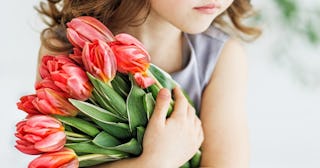 Getty Images
What's your favorite flower? If you happened to say tulips, you're in luck. Did you know that there are 150 species of tulips? While they come in a variety of different colors, most are bold, cheerful, and bright. The tulip (which makes an excellent baby name, BTW) has a level of mystery to it, as it only blooms between three and seven days during the spring. Thus, seeing a tulip at this stage is a rare yet beautiful moment. Hence, the type of moment that's worth breaking out your colored pencils and markers for — because not only are tulips beautiful spring flowers, but they're also very fun to color. As luck would have it, we've got the tulip coloring pages to prove it!
If you're looking forward to these lovely flowers come spring, you'll appreciate our tulip coloring pages. And for all of the flower enthusiasts out there, you can complete your paper bouquet with our coloring pages blooming with roses and other flowers.
Free Tulip Coloring Pages
1. Tulip Bouquet
What's better than one tulip? Three tulips! This particular drawing has its own shading. Intermediate artists will have no trouble turning this great tulip coloring page into a real artistic masterpiece. Aƒlso, if you're ever looking for a sign that spring is near, tulips are a great indicator that seasons are-a-changin'. Fun fact: The word tulip comes from the Persian word delband, which means turban. The flower was associated with this hairpiece because its petal looked similar to a headwrap.
2. Tulip Icon No. 1
Sometimes, you just need something simple to color in. This tulip is the perfect distraction if you're looking to keep your mind busy and focused while on hold on the phone, or while waiting for your coworkers to join your Zoom meeting. Yes, it's completely fine to give yourself a coloring break during the workday. Fun fact: In place of onions, you can use tulips in your dishes. You can also use this flower to make wine. Did you know that the tulip is the national flower of Turkey and Afghanistan? How beautiful!
3. Tulip Icon No. 2
This tulip looks a bit more traditional. Don't you think it would look lovely either in a deep red or a bright yellow? Fun fact: Tulips are part of the Liliaceae family which includes garlic, onions, and asparagus!
4. Tulip Icon No. 3
Want to get really adventurous with this tulip coloring page? Pretend the bloom of the tulip is actually a Starbucks latte. That's a great way to combine two wonderful things in one basic drawing. Of course, any color will accentuate this neat doodle. Out of all of the tulip coloring pages, this one has the most potential to be a bit profound. Tulips can also live for up to two years, even though they only bloom for about three to seven days a year. What a life!
5. Tulips in Pot
Just by looking at this drawing, it's easy to imagine flowers on the windowsill at Grandma's house. Out of all the tulip coloring pages, this is the only one so far that might bring you nostalgic feelings. Tulips are also native to central Asia.
6. Dutch Tulip Girl
Want more range than the standard tulip would give you? This cute Dutch girl design very well may inspire you to start your own tulip garden this year. Did you know the Netherlands exports more than three billion tulip bulbs a year? They're the largest tulip producer in the world. These sweet bulbs get their name from the Persian word "delband," which means turban. It's also associated with Turkey, because people would decorate their turbans with tulip stems.
7. Spring Tulips
These particular tulips look like they'd prefer to be a deep maroon or purple color. Since tulips come in all colors, there's no wrong way to fill one in. Also, if you've been inspired to fill your house with tulips (and your little one's coloring pages of tulips) keep the foliage when cutting your tulips. This will prevent your bulbs from drying up and help them bloom. After roses, tulips are the most popular flower to be gifted on Valentine's Day.
8. Basket Full of Tulips
What's better than tulips? How about a bouquet of tulips, delivered by bike? (Which, granted, may be a strange scenario if you don't live in a big city.) This fun image has a lot going for it and will be a blast to color in. When carrying your own basket of tulips home, keep them far away from your pets. Although beautiful, they can be harmful and even deadly to animals.
9. Doodle Tulip No. 1
There's something beautifully childlike about this tulip drawing. It looks much like the flowers you probably drew in your high school notebooks while trying to look busy. With the right colors, this sweet image can morph into a real masterpiece.
10. Doodle Tulip No. 2
This tulip has some similarities. It's also pretty whimsical and childlike in a fun way. Pinks and yellows would look very good on this tulip coloring page, but feel free to go wild. The best part of coloring is that there are no rules.
Click here to print all of the tulip coloring pages at once!
This article was originally published on