Want Great Skin? You Only Need Two Minutes
by Samantha Angoletta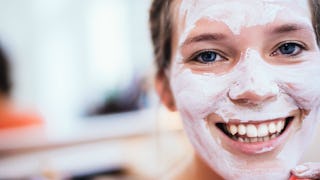 Guido Mieth / Getty
I know the world of skincare can be overwhelming. When I first dipped my toe into the waters years ago, my brain was constantly in overdrive. What did I need right away? What could wait until later? Where should I splurge? Where should I save? And, in what order do I apply these magical potions.
So. Many. Questions.
I didn't really know where to start.
Now that I'm in deep, I know exactly where you should begin. Even if you have clear skin, never suffer from breakouts, and have no desire in ever purchasing a serum.
If you want great skin, you start with cleansing. And now you're like DUH, LADY, because you are probably already doing this. Most people are washing their faces daily.
But most people are not double cleansing. Yes, that means washing your face twice, but stick with me, it's not that complicated or time-consuming. It's literally a few minutes, and it won't even break your bank. Promise.
Double cleansing simply means removing your makeup, sunscreen, and all the other gunk our faces collect each day before washing your face. You have multiple options for this, ranging from affordable to luxury, oils to balms. (If you are wearing heavy eye makeup, or waterproof mascara, feel free to use eye makeup remover first.)
You rub oil/balm into dry skin, making sure to get all the nooks and crannies. Then you use a wet washcloth with warm (not hot!) water to remove. Run cloth under warm water, wring out, and wipe down. Repeat until all balm and makeup are removed. This is your first cleanse.
Side note: This is done at the sink, not in the shower. The shower is too hot, and can damage the skin on your face. I realize this feels like a total pain in the ass, and many of you are married to washing your face while in the shower, but it really does not take that long to stand at the sink. Really. Swear.
Here are some of my favorite balm cleaners:
Total bargain!
A splurge, but so so so good.
After you've removed all the gunk, your skin is now primed and ready for cleansing. Unlike before, you are not just swishing your cleanser around on top of your makeup and sunscreen. You are actually able to truly clean the skin. This is where your gel, milk, and lotion cleansers come in. You rub into dry skin again, and then you remove using your warm wash cloth. Rinse, wring, and wipe a few times to make sure you remove it all.
Side notes: Make sure to stay away from anything that foams. Foaming cleansers contain sodium laurel sulfate, which just breaks down your skin's protective layer and works against all the hard work you're doing to keep your skin glowing.
Also, you might want to avoid mineral oil. This is hotly debated in the skincare world. But, it acts as a barrier and sits on the surface of the skin, which is why it would be good to treat an open wound, so anything you apply after will not absorb properly.
Here are some of my favorite cleansers:
Quite simply: best skincare bargain ever.
This is a double whammy. It has your balm for first cleanse on one side, and your cleanser on the other. Great for home or travel.
So, I know it feels like there's a lot of information here, but it's mostly just tips and tricks. In reality, you will spend two minutes doing this. You remove your makeup/sunscreen, then you cleanse your skin. Done.
Skincare Goddess Caroline Hirons will prove my point:
This is where it all starts. Before you do anything else, and certainly before you invest in serums, acids and fancy moisturizers. Those certainly have their place in your routine, and we can talk about them, but start with the double cleanse. If you do nothing else for your skin (besides sunscreen, always wear sunscreen), do this. A two minute routine can change your skin.
This article was originally published on