Break Out The Glitter Glue! These Unicorn Crafts Are Full Of Color And Sparkle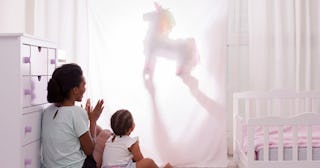 RuslanDashinsky/Getty Images
If you keep waiting and wishing for the end of the unique fad, you should prepare yourself to wait just a little longer. It seems the "new" idea to put unicorn horns on literally any animal has only helped to propel the glittery, magical trend to further heights. Not that we mind. The world is a dark and scary place. Often, disappearing into a land of rainbows and magic is just what we need — and we're positive our kiddos feel the same way. From unicorn gifts to unicorn decor, everywhere you look at any store, you can find a world of pastel colors and six sizes of glitter. If your kid's bedroom looks like a unicorn threw up in it, you're probably so over unicorns. But we all just want our kids to be happy, right? And, if that means breaking out some supplies for an afternoon making colorful unicorn crafts, well, so be it!
The following crafts are easy, tons of fun, and (obviously) pay homage to everyone's favorite mythical creature. And when your kid inevitably flies through all of 'em, we highly recommend pointing them in the direction of our collection of unicorn coloring pages. Now, break out the glitter glue because it's unicorn crafting time!
1. Origami-Esque Bookmark
If your little unicorn lover always has their nose in yet another book and spends their life in a new fantasy world each month, they'd no doubt love this unicorn bookmark. If you can't tear them away from their book, make one for her.
2. 3D Unicorn Collage
Admittedly, these are messy and probably something we'd try to sneak into the trash within a week. But for arts and crafts time for kids, it's often less about quality control and more about just having fun. Your kiddos will no doubt love creating these unicorns.
3. Fluffy Rainbow Unicorn Slime
Yeah, we hate slime too. But our kids love it. What exactly turns slime from "regular slime" to "unicorn slime"? It seems like it basically just boils down to the colors you use to make it… and the addition of glitter. And remember, there is a silver lining to slime: It works great for cleaning crumbs from the nooks and crannies in your car.
4. Unicorn Playdough
Making unicorn dough follows the same concept as unicorn slime: Go with pastels and add glitter. Need a reason to make your playdough from scratch? We can give you a few reasons! No. 1, it counts as a science lesson. No. 2, you can make it edible. No. 3, it's great for sensory play.
5. Paper Plate Unicorn
Here's what we love most about this unicorn craft: It's easy and can probably be done using supplies that you already have on hand.
6. Unicorn Mask
Why make a unicorn when you can be a unicorn? This is another super-easy unicorn craft that requires very little prep from you. While you can go to the link included and print out these unicorn attachments, you can alternatively just trace similar shapes on construction paper and let your kids go full DIY on their masks.
7. 3D Unicorn Birthday Card
This card reminds us of those accordion-like honeycomb bells and balls that everyone used for parties and showers in the '80s. We love the 3D aspect and how easy it is for kids to create. Depending on your child's age, you can put a ton of prep work into this or make it an independent project.
8. Unicorn Dreamcatcher
Aren't these magical? Every kid goes through a dreamcatcher phase. We probably made a dozen in our lifetime! We love this extra-magical and fantastical spin on them, though. Making a unicorn dreamcatcher will probably help it better fit into their current bed decor.
9. Unicorn Puppet
"Unicorn on a stick?" you say. "No, Boo," we answer. "It's a unicorn puppet." Now to find the princess and knight puppets you already own so you kids can act out a whole story….
10. Unicorn Bulb Ornaments
This unicorn craft requires a ton of glitter. Sorry. Maybe put a drop cloth down first? We know most adults hate glitter, but that doesn't change just how much kids love it — and we certainly don't want to deprive our children, right? Bonus: Those clear glass or plastic bulbs are so cheap at craft stores. You could make this a week-long unicorn ornament extravaganza and let your kids make a whole new theme for this year's tree.
11. Felt Unicorn Ornaments
And if you want more than just glittery bulbs? Grab up some felt while you're at the store and get to tracing and cutting. These are so cute and relatively simple. You could even consider this a craft for your older kids to do while your younger kids work on the bulbs.
12. TP Roll Unicorn
You've been hoarding TP rolls for crafts since your kids were born. Well, here it is — the craft that lets you put those suckers to use.
13. Unicorn Pumpkins
That's right, mamas. Even Halloween decor isn't safe from unicorns. These kitschy treasures make the Lisa Frank-lovin' child in our souls so giddy with anticipation.
14. Ride-On Unicorns
Need to recycle this year's pool noodles? Before you toss them in the trash, give them one last ride by turning them into unicorns. They are, in essence, like stick ponies. But, you know, they're unicorns made with pool noodles.
15. Unicorn Sleep Mask
This craft can be so much fun for any day's art time, but we especially love the idea of doing it at a sleepover. How cool would it be to make a sleep mask before tucking into your sleeping bag at your very first sleepover? Yeah, we love it.
16. Unicorn Headband
This could also be fun for a one-off or a party favor idea. Watch the video. It's way easier than you think.
17. Unicorn Snot
Do you know what's cooler than a unicorn? Unicorn snot! And we promise it's not as gross as it sounds. The great thing about unicorn snot is that it's sparkly, gooey, and much more fun to play with than your own boogies. You'll need glitter, liquid starch, and rainbow beads. Once you're done making your unicorn snot, you can put it in a jar to keep it fresh and from getting dirty.
18. Unircorn Rock
This is by far the easiest craft on the list. You'll need a bunch of medium-sized rocks, paint, glitter, and googley eyes. This is your child's chance to be creative as they paint the face of a unicorn on a rock. One of the best things about this craft is that they can keep it at their bedside, or it can be used to add a little razzle-dazzle to their room.
More Unicorn Crafts
Unicorn Mane
Does your little one want their very own fabulous unicorn mane? Cut a piece of ribbon about the size of your child's head. Then cut two small slits at each end of the ribbon. Slide two clips into each cut and grab a roll of rainbow yarn. Cut the yarn as long as your child wants their mane. Then glue each piece of yarn to the ribbon. Once it's dry, clip the ribbon into your child's hair and watch them strut!
This article was originally published on