105+ Valentine's Day Quotes That Will Get You Luckier Than Cupid's Arrow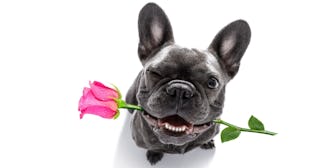 damedeeso/ Getty Images
Valentine's Day is a day reserved for canoodling, cuddling, kissing, and grand gestures. If you're not in love on Feb. 14th, V-day can seem like any other day or day-long reminder that you are single. Whether you have a boo or not, these quotes will make you appreciate love and romance for what it is. You can also save them for your wedding or a future lover's birthday.
RELATED: Treat Yo' Self: 18 First Valentine's Day Gifts For New Parents (Because You Deserve It)
Roses are red, violets are blue…and what's the rest of the poem? Expressing your love for your significant other isn't always easy. If there's one thing we can all agree on, it's that love isn't black and white, which is why we gathered quotes that hit a spectrum of what romance means to a range of people. We've rounded up some of the sexiest, funniest, and most romantic Valentine's Day quotes you can whisper in your lover's ear. You'll have them swooning in no time!
Looking to add more spice to your V-day? We have idea pages for best boyfriend gifts, sex positions, Literotica, and more.
"Doubt thou the stars are fire, Doubt that the sun doth move. Doubt truth to be a liar, But never doubt I love." — William Shakespeare
"For it was not into my ear you whispered, but into my heart. It was not my lips you kissed, but my soul." — Judy Garland
"The minute I heard my first love story, I started looking for you, not knowing how blind that was. Lovers don't finally meet somewhere. They're in each other all along." — Rumi
"All you need is love. But a little chocolate now and then doesn't hurt." — Charles M. Schulz
"The greatest thing you'll ever learn is just to love, and be loved in return." Moulin Rouge (2001)
"I fall in love with myself, and I want someone to share it with me. And I want someone to share me, with me." — Eartha Kitt
"I have no notion of loving people by halves, it is not my nature." — Jane Austen
"Love has nothing to do with what you are expecting to get—only with what you are expecting to give — which is everything." — Katharine Hepburn
"Love grows more tremendously full, swift, poignant, as the years multiply." — Zane Grey
"Now a soft kiss – Aye, by that kiss, I vow an endless bliss." — John Keats
"If you live to be a hundred, I want to live to be a hundred minus one day so I never have to live without you." — A. A. Milne
"So, fall asleep love, loved by me… for I know love, I am loved by thee." — Robert Browning
"Love is when the other person's happiness is more important than your own." — H. Jackson Brown Jr.
"How did it happen that their lips came together? How does it happen that birds sing, that snow melts, that the rose unfolds, that the dawn whitens behind the stark shapes of trees on the quivering summit of the hill? A kiss, and all was said." — Victor Hugo
"A friendship that like love is warm; A love like friendship, steady." — Thomas Moore
"One words frees us of all the weight and pain of life: That word is love." — Sophocles
"Love is a promise, love is a souvenir, once given never forgotten, never let it disappear." — John Lennon
"I have crossed oceans of time to find you." — Dracula (1992)
"Being married is like having somebody permanently in your corner. It feels limitless, not limited." — Gloria Steinem
"Love shall be our token; love be yours and love be mine." — Christina Rossetti
"If you can stay in love for more than two years, you're on something." — Fran Lebowitz
"The hours I spend with you I look upon as sort of a perfumed garden, a dim twilight, and a fountain singing to it. You and you alone make me feel that I am alive. Other men it is said have seen angels, but I have seen thee and thou art enough." — George Edward Moore
"If grass can grow through cement, love can find you every time." — Cher
"I would rather share one lifetime with you than face all the ages of this world alone." — Lord of the Rings: The Fellowship of the Ring (2001)
"The best thing to hold onto in life is each other." — Audrey Hepburn
"Love is like the wind, you can't see it but you can feel it." — Nicholas Sparks
"What I find most disturbing about Valentine's Day is, look, I get that you have to have a holiday of love, but in the height of flu season, it makes no sense." — Lewis Black
"Each time you love, love as deeply as if it were forever." — Audre Lorde
"There is only one happiness in this life, to love and be loved." — George Sand
"Love is just a word until someone comes along and gives it meaning." — Paulo Coelho
"What the world really needs is more love and less paperwork." — Pearl Bailey
"Can't you see? Every step I have taken, since I was that little girl on the bridge, was to bring me closer to you." — Memoirs of a Geisha (2005)
"Give me a kiss, and to that kiss a score; Then to that twenty, add a hundred more: A thousand to that hundred: so kiss on, To make that thousand up a million. Treble that million, and when that is done, Let's kiss afresh, as when we first begun." — Robert Herrick
"You have bewitched me, body and soul, and I love… I love… I love you." — Pride and Prejudice (2005)
"You are never alone on Valentine's Day if you're near a lake and have bread." — Mike Primavera
"Being deeply loved by someone gives you strength, while loving someone deeply gives you courage." — Lao Tzu
"To me, Valentine's Day is not merely limited to a lover but speaks of universal love." — Dimple Kapadia
"We simply can't abandon ship every time we encounter a storm. Real love is about weathering the terms of life together." — Seth Adam Smith
"People love in different ways. You may have a man who brings you flowers every Monday but doesn't give two hooty-hoots about Valentine's Day. Just because he doesn't give you a valentine doesn't mean he doesn't love you!" — Jada Pinkett Smith
"Love never gives up." — 1 Corinthians 13:7
"Love is when the desire to be desired takes you so badly that you feel you could die of it." — Henri de Toulouse-Lautrec
"I wanted it to be you, I wanted it to be you so badly." — You've Got Mail (1998)
"Whatever souls are made of, his and mine are the same." — Emily Bronte
"At the touch of love everyone becomes a poet." — Plato
"True love comes quietly without banners or flashing lights. If you hear bells, get your ears checked." — Love Story (1970)
"Love is our true destiny. We do not find the meaning of life by ourselves alone — we find it with another." — Thomas Merton
"You know you're in love when you can't fall asleep because reality is finally better than your dreams." — Dr. Seuss
"I carry your heart (I carry it in my heart)" — e.e. cummmings
"There's no bad consequence to loving fully, with all your heart. You always gain by giving love." — Reese Witherspoon
"Love is passion, obsession, someone you can't live without. If you don't start with that, what are you going to end up with?" — Meet Joe Black (1998)
"There is never a time or place for true love. It happens accidentally, in a heartbeat, in a single flashing, throbbing moment." — Sarah Dessen
"To be brave is to love unconditionally without expecting anything in return." — Madonna
"A successful marriage requires falling in love many times, always with the same person." — Mignon McLaughlin
"Nobody has ever measured, not even poets, how much the heart can hold." — Zelda Fitzgerald
"The only thing we never get enough of is love' and the only thing we never give enough of is love." — Henry Miller
"You don't love someone for their looks, or their clothes or for their fancy car, but because they sing a song only you can hear." — Oscar Wilde
"Love is an act of endless forgiveness, a tender look which becomes a habit." — Peter Ustinov
"We loved with a love that was more than love." — Edgar Allen Poe
"Death cannot stop true love. All it can do is delay it for a while." — The Princess Bride (1987)
"When love is not madness it is love." — Pedro Calderon de la Barca
"Remember, your Valentine's card shows you care enough to send the very best, even though you're too lazy to put it in your own words." — Melanie White
"To love and be loved is to feel the sun from both sides." — David Viscot
"Take a lover who looks at you like maybe you are magic." — Frida Kahlo
We are most alive when we're in love." — John Updike
"Love is a game that two can play and both win." — Eva Gabor
"I love you. You complete me." — Jerry Maguire (1996)
"You don't love someone because they're perfect, you love them in spite of the fact that they're not." — Jodi Picoult
"The greatest thing you'll ever learn is just to love, and be loved in return." — Nat King Cole
"They invented hugs to let people know you love them without saying anything." — Bil Keane
"Love isn't something you find. Love is something that finds you." — Loretta Young
"Love recognizes no barriers. It jumps hurdles, leaps fences, penetrates walls to arrive at its destination full of hope." — Maya Angelou
"Loving is not just looking at each other, it's looking in the same direction." — Antoine de Saint-Exupéry
"If I had a flower for every time I thought of you … I could walk through my garden forever." — Alfred Tennyson
"To feel the love of people whom we love is a fire that feeds our life." — Pablo Neruda
"I know of only one duty, and that is to love." — Albert Camus
"I came here tonight because when you realize you want to spend the rest of your life with somebody, you want the rest of your life to start as soon as possible." — When Harry Met Sally (1989)
"Oh, if it be to choose and call thee mine, love, thou art every day my Valentine!" — Thomas Hood
"I love you more than I have ever found a way to say to you." — Ben Folds
"Where there is love, there is life." — Mahatma Gandhi
"There is always some madness in love. But there is also always some reason in madness." — Friedrich Nietzsche
"Love is friendship that has caught fire." — Ann Landers
"How do I love thee? Let me count the ways." — Elizabeth Barrett Browning
"Love is composed of a single soul inhabiting two bodies." — Aristotle
"True love stories never have endings." — Richard Bach
"Your words are my food, your breath my wine. You are everything to me." — Sarah Bernhardt
"Many are the stars I see, but in my eye no star like thee." — English Proverb
"Love is the greatest refreshment in life." — Pablo Picasso
"Love doesn't make the world go round. Love is what makes the ride worthwhile." — Franklin P. Jones
"I love you without knowing how, why, or even from where." — Patch Adams (1998)
"The heart has its reasons which reason knows not." — Blaise Pascal
"Take my hand, take my whole life too, but I can't help falling in love with you." — Elvis Presley
"Two people in love, alone, isolated from the world, that's beautiful." — Milan Kundera
"Love never gives up, never loses faith, is always hopeful, and endures through every circumstance." — 1 Corinthians 13:7
"What I feel for you seems less of earth and more of a cloudless heaven." — Victor Hugo
"Love planted a rose, and the world turned sweet." — Katharine Lee Bates
"A friend is someone who knows all about you, and still loves you." — Elbert Hubbard
"Clouds never get tired of giving rain to us; and you, you must never get tired of giving your love! Valentine's Day is day to remember to give more, to love more, it is a day to behave like a heavy rain!" — Mehmet Murat Ildan
"We are all a little weird. And life is a little weird. And when we find someone whose weirdness is compatible with ours, we join up with them and fall into mutually satisfying weirdness — and call it love. True love." — Robert Fulghum
"For the two of us, home isn't a place. It is a person, and we are finally home." — Stephanie Perkins
"To love oneself is the beginning of a lifelong romance." — Oscar Wilde
"It's like in that moment the whole universe existed just to bring us together." — Serendipity (2001)
"Life is the flower for which love is the honey." — Victor Hugo
"If I know what love is, it is because of you." — Hermann Hesse
"I wasn't expecting you. I didn't think that we would end up together. The single most extraordinary thing I've ever done with my life is fall in love with you. I've never been seen so completely, loved so passionately and protected so fiercely." — This Is Us
"I saw that you were perfect, and so I loved you. Then I saw that you were not perfect, and I loved you even more." — Angelita Lim
"You're always the first and the last thing on this heart of mine. No matter where I go, or what I do, I'm thinking of you." — Dierks Bentley
"The real lover is the man who can thrill you by kissing your forehead or smiling into your eyes or just staring into space." — Marilyn Monroe
"For thousands of nights, I dreamed of making love to you. No man on earth has ever hated sunrise as I do." ― Again the Magic