You'll Be Up To Your Neck In Creativity With These Vampire Coloring Pages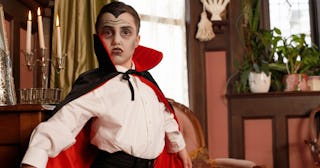 Christopher Robbins/Getty Images
Vampires are a bit strange, no? Lore often depicts them as tall, dark, handsome night owls who just happen to have a thing for your blood. They're intriguing yet not-so-great for us, like your ex-boyfriend or, arguably, Edward Cullen. While the Twilight series might have reignited the vampire craze in the early 2000s (in more ways than one), vampires first gained notoriety through stories told in Eastern Europe hundreds of years ago. Yep, there's no doubt about it — vampires are weird, creepy, and fascinating AF. No wonder your kid is interested in dressing up as one for Halloween! So, if your little energy-suckers are driving you batty this time of year, a great way to both distract and satisfy them is our collection of free vampire coloring pages.
Although the earliest reports of vampires date back to ancient Greece, we largely owe the concept of vampires we know today to Bram Stoker's famous novel Dracula published in 1897. Thanks to that guy, vampires have become synonymous with pale-looking dudes with fangs, Transylvanian accents, and the thirst for blood to survive. Mythology also suggests that some vampires can transform into other animals, particularly bats (although cats and wolves are other options). Then there's the whole idea that once a vampire bites you, you're most likely to become a vampire too (hi, Bella Swan).
But enough of vampire lore; it's time for some vampire fun! These free printables are practically guaranteed to get your kiddo pumped for everyone's favorite creepy season. Coloring is a super-enjoyable DIY activity and also one in which kids pick up much-needed skills like patience and focus. Plus, you get a little downtime, too. After your Count Cute-ula sinks their teeth into these coloring pages (along with some fun facts about vampires), check out our other spooky-themed pages like our moon coloring pages, witch coloring pages, ghost coloring pages, and bat coloring pages.
Free Printable Vampire Coloring Pages
Vampire Page No. 1
Legend has it that a vampire will enter your home only when you invite him inside. So, take away that welcome mat and don't give out any mixed signals!
Vampire Page No. 2
It's said that a vampire's powers can be weakened by garlic, silver, and religious symbols, like crosses. Mirrors are also thought to help drive them away (since, as beings without any souls, they don't have a reflection).
Vampire Page No. 3
You might want to rethink having that old Halloween pumpkin stick around. In some regions of southeastern Europe, residents once believed pumpkins or watermelons turned into vampires if left out longer than 10 days. But vampires are known to transform into even cooler things than produce, like bats, rats, foxes, wolves, owls, and even moths.
Vampire Page No. 4
Of course, Dracula is the most famous vampire (sorry, Edward), but other well-known vampires include Tom Cruise and Brad Pitt in Interview with a Vampire and Sesame Street's Count von Count.
Vampire Page No. 5
A group of vampires is called a clutch, brood, pack, or clan, and the word vampire comes from the Greek word meaning "to drink."
Vampire Page No. 6
Before Twilight gave us Robert Pattinson in the iconic Edward Cullen role, Henry Cavill was author Stephenie Meyer's first choice. The hitch? He was deemed too old for the part.
Vampire Page No. 7
It's believed that, historically, people assumed to be vampires could have been suffering from rabies. Symptoms of the viral disease include trouble walking, biting others out of aggression, and horrific cramps, leading to them chomping down on their tongues and causing blood to spill from their mouths.
Vampire Page No. 8
Even if it's been proven that vampires aren't real, a small group of people insists on drinking blood for their health (which is unfounded advice). Um, blech?
Vampire Page No. 9
Dare we forget the 1992 Dracula film starring Gary Oldman in the titular role? The movie also starred Winona Ryder, Liam Neeson, and Keanu Reeves, who said he didn't like his performance.
Vampire Page No. 10
Interesting fact? Dracula was reportedly based on Bram Stoker's terrible boss. And you thought yours was bad!
Click here to print all of the vampire coloring pages at once!
This article was originally published on