We Need To Talk About This Wet 'N Wild Blush—TikTok Is Obsessed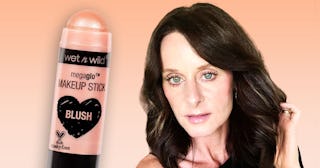 I was a child of the '80s and '90s and we didn't have TikTok or Instagram. We had Young Miss Magazine and commercials to make us want-y.
I remember cutting out the pages of all the makeup looks, and my BFF and I would study them and try to replicate them in front of her full length mirror in her bedroom.
On our allowance, we couldn't afford the lavish brands that were being advertised. But you know what we could always afford? Wet' n Wild, baby.
I had everything — their eyeliners and lipliners were two for 50 cents in those days. The mascara was two bucks, and their blush was the one freaking dollar. I had every color of nail polish and was crazy about their lipsticks.
I have the fondest memories of walking to the drug store after school with loose change I'd collected from around my house jingling around in my change purse while I tried every perfume sample and decided which products I'd get that day. I can still smell the Lady Stetson wafting through the air.
As an adult, I still use Wet'n Wild products. I've learned over the decades that expensive doesn't always mean better — and there are a few things I will always get on the cheap, I don't care if I hit the lottery.
So, when I hear there is a Wet'n Wild dupe to the popular Charlotte Tilbury Pinkgasm wand (which is sold-out in most places), and it's over thirty dollars cheaper, you bet your ass I am going to try it.
I love the Wet'n Wild blush I currently have in my makeup cabinet — it's called Mellow Wine and works perfectly with my fair skin tone. I had a feeling this makeup stick TikTok is going crazy over — people are saying it's just as good as the expensive shit — was going to make me happy.
I set out to find it, but had my doubts. Once TikTok gets their hands on something as good as a $5 dupe, it's pretty hard to find.
I went to Target and you guessed it, they were sold out. Then, I remembered my trusty drug store that always seems to be well stocked with makeup products (and was the only place I could find the famous L'oreal Infallible Powder when TikTok was swooning over that).
Of course you can get it on Amazon, but I am greedy and wanted it ASAFP.
As soon as I walked in, I headed right for the Wet'n Wild section, and my toes started to curl. It had been picked over and I just knew greedy little teenagers (like the one I used to be) hogged it all up.
The makeup sticks were nowhere to be found so I did what any desperate middle-aged woman who heard of a great makeup deal would do: I bent down, searched everywhere, and put my hands in places they should never be, like underneath shelves and in dark corners.
Y'all, I found the last Peach Bum make up stick in between the eyeliners and some spilt nail polish. I'm guessing someone hid it there so they could come back and purchase it (something else I used to do) but too bad. This mama needs to try this life-changing blush out.
I clutched it in my hot little hand and went home to try it out.
First, I should tell you I've never had a cream blush that I can recall. I'm not sure why, but I've always reached for the powder.
I put on my sunscreen, moisturizer, and BB cream, then I took that stick and applied it to my cheeks.
I decided to use my blending brush to smooth it out and it worked perfectly.
This blush is so shimmery and goes on so nicely, I didn't even use my usual highlighter; I didn't need it.
I then decided to put some on my eyelids instead of my usual routine, which is to put highlighter in the corner of my eyes and then use a glow stick on my lids.
I absolutely love the way it looked, and the fact that this one makeup stick saved me several steps.
I also contour with blush instead of bronzer. I continued to do my normal blush routine, which is to add a line of color down my nose and along my hairline. I always outline these blush lines with highlighter but again, I didn't need the highlighter because this stick is so luminous and the perfect shade of peachy-pink.
It lasted all day and didn't fall into my lines.
The next day, I was in a hurry, so instead of pulling out my blending brush, I just applied it with my fingers, rubbed it in my skin, and it worked just as well.
I had a feeling this makeup stick wouldn't disappoint and it exceeded my expectations. I won't even say it was great for being a $5 product — it's just plain great and I have no desire to seek out the Charlotte Tilbury brand, so I can spend my dollars on Wet'n Wild. They have a few other shades in the makeup stick and my daughter and I want to try them all.
Whether you go full glam every day, or only wear makeup on special occasions, you have to give this Peach Bum Wet'n Wild makeup stick a try.
It's perfect for summer and you can do your makeup in under five minutes. Lately, I throw on my face products and just use this stick, some mascara, and I'm done.
My advice is to go get your hands on one ASAFP — this level of glow is stunning on any skin tone, and any age.
Wet'n Wild: You've seen me through my awkward teen years, the prom, my college days, when I was in my early 20s and couldn't afford expensive makeup. And now, here I am in my 40s, still hoarding your products.
There are some things you never grow out of, and your makeup never lets me down.
This article was originally published on