I'm Finally Teaching My Children About Their Latinx Culture — Starting This Hispanic Heritage Month
by Dris Wallace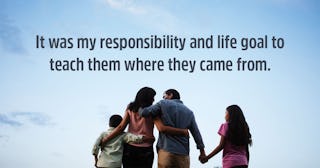 aldomurillo/Getty
As a Latina, I'm so proud to see so many influential Latinx people make history and have a month dedicated to celebrating their accomplishments. It makes me happy that our ancestors have left a legacy that my children and I can look up to, and aspire to one day be able to add to that growing influence. Growing up as a Latina in a mostly Hispanic environment, I was immersed in the culture of strong family values, amazing food, and the wonderful music.
When I left my hometown in my early twenties, I started working for a company where I was a minority. Not many people spoke Spanish. My new friends and new neighbors were English speakers only. A couple years later, I married a Caucasian man who didn't speak Spanish either. Slowly but surely I had come to the realization that I was moving away from the culture and the Spanish-speaking environment that I had once loved so much.
I felt guilty that I was swaying away from that, and vowed that my future children would learn Spanish and be reminded of how beautiful the Hispanic culture was. It was my responsibility and life goal to teach them where they came from.
Years later, after my first child was born, I really didn't have the energy to teach my child Spanish. It had been so long since I had celebrated any Mexican holidays and hadn't spoken Spanish for more than 10 minutes to anyone other than my mother. I not only had to teach my daughter Spanish, but my husband as well. It just seemed like such a drag to have to add yet another item to my to-do list.
Over the past few years, in speaking to many second-generation Americans and interracial couples — especially Hispanic and Caucasian couples — I find this to be a common occurrence. You move away from your hometown and assimilate yourself into the American way and sway from your roots. You marry a non-Spanish-speaking spouse, and the culture that you knew and loved seems to take a backseat to your 'new normal.'
That isn't always the case, but I find that many second-generation Americans and interracial couples experience this more than they would like to admit. I vowed to myself that this year, I would make it a priority to teach my children my native language, and also the beautiful Hispanic culture that I'm so proud of. I want to take the opportunity to teach my oldest child the importance of our cultural roots, and what better time than Hispanic Heritage month? You've got to start somewhere, and why not the month where we celebrate Hispanic Heritage as a country?
The observation of Hispanic Heritage Month was first celebrated in 1968 under President Lyndon Johnson to cover a 30 day period starting on September 15th—October 15th in the US, for recognizing the contributions and influence of Hispanic Americans in history, culture, and achievements. So many important celebration days happen during this time period: September 15th is the anniversary of Independence for Latin American countries. September 16th and 18th are Mexico's and Chile's independence days. In addition, Día de la Raza falls on October 12th.
I want my children to know not only about our special days, but about the trailblazing, groundbreaking, influential people of our culture. So I'm starting with these:
Ellen Ochoa: A Mexican-American engineer and former astronaut. First Hispanic woman to go into space. She also served as the Director of Nasa Johnson Space Center, becoming the first Hispanic (and second woman) to do so.
Sylvia Mendez: First Mexican-American to go to an all-white school in California. Paved the way for desegregation of schools in the United States. Her parents sued in the landmark case Mendez vs. Westminster in 1947, successfully desegregating all public schools in California.
Rita Moreno: First-ever Hispanic American Woman to win an Academy award.
Alexandria Ocasio-Cortez (AOC): Youngest person to be elected in the House of Representatives during the midterm elections in 2018.
Sonia Sotomayor: First Hispanic American to serve as a member of the Supreme Court.
Cesar Chaves: Mexican American Civil Rights Leader.
Jorge Ramos: Mexican American journalist once named by Time magazine as the Most Influential Person.
I want my kids to be proud of where they came from. To know our culture and to understand how beautiful it is. Culture defines your values and beliefs. I never want my children to question where they came from; self-identity is very important for people, and I want to help my children maneuver through that.
I may be four and a half years late in beginning to teach my oldest child Spanish and more about our culture, but I'm starting now. I encourage anyone who is in the same position as me to do the same. Help them to understand where they came from and why they should be so darn proud. As my mother would say: "Sí se puede! Vamos!"
This article was originally published on