Cast A Spell On Your Kiddos With These 10 Magical Witch Coloring Pages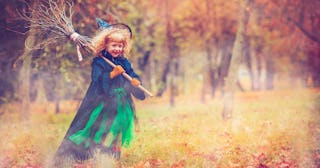 ArtMarie/Getty Images
On Halloween, your little one is getting ready to brew up some fun and make her debut as a little witch. We can't blame her. Witches are having a moment right now. Thanks to the recent trends in astrology and healing crystals, along with our generation's obsession with house plants, witches have transformed from scary, green-faced monsters to fierce, confident, badass women. And so it should be. In fact, we love these ladies of lore so much we went ahead and conjured up an entire collection of witch coloring pages!
Sure, our patriarchal history would like to paint witches as strange and scheming women running around casting spells. But the truth is, those who were considered witches back in the 17th century (around the time of the Salem witch trials) were typically single women and healers or lightworkers who understood the medicinal properties of plants and herbs — and who might have had a cat or two. She was also someone who might have questioned authority, and therefore, was an easy target to suppress and shame (have times really changed?).
Nonetheless, witches and All Hallows Eve are synonymous. So, if your little one longs for a witch costume for this year's festivities, she should definitely grab a broom, a pointed hat, a black cat, and boil up some fun with her sassy witch crew. In the meantime, trick or treat her with these fun witch coloring pages as we witch you a very happy haunting season. While you're at it, we recommend keeping the otherworldly vibes going by printing out our moon coloring pages, snake coloring pages, dragon coloring pages, and zodiac coloring pages.
Free Printable Witch Coloring Pages
Witch Page No. 1
Witchcraft is believed to be a practice that develops and/or enhances supernatural skills and abilities, like casting spells and performing magical rituals. And did you know that a group of witches is called a coven?
Witch Page No. 2
Black cats have played a huge role in witch mythology for centuries. In the middle ages, people believed they were spirits that served as companions to witches. In truth, black cats are nothing like this. But this superficial (and outdated) stigma has carried on today, resulting in black cats often being the last cats to be adopted. So, adopt a black cat!
Witch Page No. 3
We all love the 1993 cult classic Hocus Pocus, right? Well, imagine it with Leonardo DiCaprio! Yep, it could have happened. Apparently, he was offered the role of Max but turned it down. Speaking of Hocus Pocus, sistaaaaahs, the long-awaited sequel is scheduled to release on DisneyPlus in fall 2022.
Witch Page No. 4
Time for a little Harry Potter trivia! Have you ever wondered about the meaning of the name Hermione — as in Hermione Granger, the cleverest little witch at Hogwarts? Well, the moniker finds its roots in Greek mythology. Hermes, the messenger god, could travel between the world of both humans and gods. Sounds like our muggle-born Hermione, eh?
Witch Page No. 5
Another one of our favorite witch movies is Practical Magic with Sandra Bullock and Nicole Kidman. According to Bullock, the scene where the two get drunk with their aunts was more fact than fiction — they really did have a little too much tequila.
Witch Page No. 6
The popular Broadway musical Wicked is based on the 1995 book Wicked: The Life and Times of the Wicked Witch of the West, a spin-off from the beloved film Wizard of Oz and its famous witchy character.
Witch Page No. 7
Surprisingly, the Wizard of Oz tanked at the box office when it was first released. Its popularity only really took off when released on TV for the first time in 1956.
Witch Page No. 8
While kids these days are obsessed with The Chilling Adventures of Sabrina on Netflix, how can we forget its predecessor, the '90s sitcom Sabrina the Teenage Witch, starring Melissa Joan Hart? Both shows, of course, are based on the Archie comic of the same name. And both feature a black cat named Salem. In the witch world, such special pets are called familiars. They are usually cats or toads and serve as a link to the magical world.
Witch Page No. 9
As we all know, Salem the cat really stole the show in Sabrina! Throughout the series' run, three cats — and one puppet — played the supernatural feline.
Witch Page No. 10
Halloween is still the perfect time to go to Salem, Massachusetts. This spooky holiday just so happens to also be considered the beginning of the new year for witches! While the validity of witches existing in Salem around 1693 is still unclear, between 800 and 1,600 residents who identify as modern witches now call it home. Bonus: You can enjoy a slew of witchy-related tourist activities and shops that make it the spookiest spot to visit.
Click here to print all of the witch coloring pages at once!
This article was originally published on