Joe & Love Are Parents In The 'YOU' Season 3 Trailer And OMG
by Kristina Johnson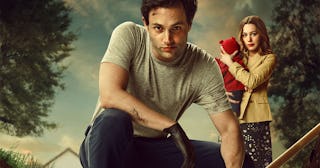 Netflix
Warning: this post contains spoilers!
The trailer for the third season of You is finally here, and it's just as delightfully creepy as fans have come to expect. Fans have been longing for more episodes of the thriller since way back in 2019, and it looks like the wait will be more than worth it.
The trailer begins with ominous music and a close-up of Joe looking terrified. "In my history of scared, this is the most scared I've ever been," he says. What, we wonder, could strike such terror in the heart of stalker/murderer? Why, parenthood, of course! The next shot shows us Love giving birth to a baby boy, just one indication of what a wild ride this season looks like it'll be.
"Being your dad is changing me," Joe whispers to his baby boy. "For you, I'd move to some soulless suburb. For you, I'd marry the monster. Your mother, Love." Well, OK, but let's not forget about your own body count there, bud, which looks like it might be going up this season judging by the surplus of knives, ax, and other weapons in the trailer.
"We both have done bad things," Love tells Joe, which is certainly one way to put it. "I wanted to move here so we could start new."
"Here," according to the official Netflix description, is "the balmy Northern California enclave of Madre Linda, where they're surrounded by privileged tech entrepreneurs, judgmental mommy bloggers and Insta-famous biohackers. Joe is committed to his new role as a husband and dad, but fears Love's lethal impulsiveness." As he should be, since she's killed at least three people.
"And then there's his heart," the description continues. "Could the woman he's been searching for all this time live right next door?" If you'll remember, season two ends with a shot of Joe peeking between the slats of his new backyard fence and discovering his new neighbor/obsession. "Breaking out of a cage in a basement is one thing. But the prison of a picture-perfect marriage to a woman who's wise to your tricks? Well, that'll prove a much more complicated escape."
Love tells Joe that they should go to couple's therapy in the trailer, which is an understatement if I've ever heard one. In a great moment of dark humor, we see them in their therapist's office as she naively tells the unhappily married pair, "You're many things, but you are not murderers." Wrooong.
The trailer ends on an absolutely BONKERS shot of Joe and Love apparently burying a body as their baby boy coos happily nearby in his carrier. A show about cold-blooded murderers should not be this enjoyable, but Penn Badgley and Victoria Pedretti are just too good at being bad.
Just like the first two seasons, the third installment will feature ten episodes — so you're going to want to clear your calendar when season three drops on October 15.