Zac Efron Broke His Grandfather Out Of Nursing Home To Watch the Euro Cup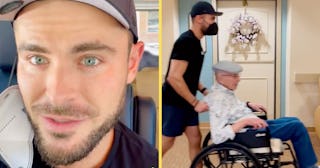 Zac Efron/Instagram
Zac Efron "busted" his grandfather out of his retirement home so they could watch the Euro Cup together, and it might the sweetest thing you'll see all day
In what might be the cutest thing we've seen all day, Zac Efron took to Instagram to show his 47.5 million followers why his grandpa deserves to be an action star on the big screen. Efron shared a video he made with his brother Dylan of the duo "busting" into their grandfather's retirement home on a top-secret mission, and it's clear that Grandpa was made for that high-octane life.
The High School Musical alum set the clip to the Mission: Impossible theme, captioning it, "We're coming Grandpa!" Donning an appropriately sneaky black face mask and baseball cap, Efron proclaims, "Time to bust Grandpa out of here!" before running into the nursing home.
Yep, there's even a somersault down the hallway for good measure, because what's a true escape mission without some stealthy acrobatics?
He then swipes a key card from an "unsuspecting" staffer nearby, before picking up Grandpa from his room. Grandpa is game for the escape, putting on his hat and declaring, "Let's get out of here."
The brothers and their grandfather then hit the road, where Grandpa enjoys a swig from a soda and says, "Let's hit it," with the trio making their way to the Efron house to watch the 2021 UEFA European Championship game between Italy and England and enjoy some quality family time together.
After the successful mission, Efron declares that his grandfather "is better at acting than I am," and while that might not be totally true, he definitely does give his grandson a run for his money.
It certainly seems like the brothers are super close with their grandfather — back in 2019, Zac posted a tribute to his grandmother after she died, sharing a family photo and noting that they planned to "take good care of Grandpa for you." He also shared an adorable 91st birthday tribute to Grandpa Efron prior to losing his wife, opening up about "the man who made it all possible" in his caption.
Of his grandpa, Zac wrote, "From the day I came into this world, taught me everything: how to tell stories, ski, laugh, love, work hard, and appreciate the beautiful things in life: paying it forward, treat others as one would like others to treat oneself, and live every day to the fullest. I've never seen anyone light up a room like you Grandpa. Thanks for being my idol, mentor, best friend, and the BEST SKIER in the family."
Please don't judge us if we shed a tear or two, because this is too much sweetness for our hearts to handle right now. Here's hoping the trio had a great time together during the match.