Zack And Kelly Just Had Their 27th Anniversary So It's Probably Time For Bifocals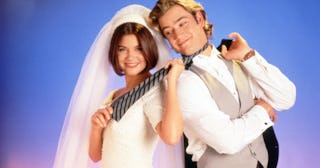 NBC
This throwback pic of Zack and Kelly is everything
If you're looking to feel really old right before the weekend starts, here's a little nugget from a time capsule you never wanted to open: Our favorite Saved by the Bell couple Zack and Kelly have been "married" for 27 years. Like, they could be grandparents now. Hold us.
Yesterday marked 27 years since Zack Morris (Mark-Paul Gosselaar) and Kelly Kapowski (Tiffani Thiessen) were officially married in TV-land in a movie called, Saved by the Bell: Wedding in Las Vegas. Thiessen adorably marked the milestone with a sweet throwback Instagram picture of the pair all those years ago.
"Happy 27th Anniversary Kelly & Zack! Way to keep the love going," she wrote in the caption, with the hashtag #friendsforever.
Wedding in Las Vegas was the series finale of the original Saved by the Bell, which aired its first episode in 1989 and followed a group of friends throughout their time at California's fictional Bayside High School. The show was a beloved '90s sitcom and everyone who watched felt invested in Zack and Kelly's relationship.
Much of the cast, including Slater, Screech (who unfortunately passed away earlier this year), and Lisa showed up for the wedding, where the friends seemingly didn't miss a beat from their high school days. Zack's love for Kelly was the stuff of high school legends, so their engagement and wedding were a must-watch back in the day and it seems only fitting Thiessen would honor the day with a post.
Fans of the original were happy to hear when Peacock offered a reboot of the show where Zach and Kelly are living happily ever after. Zack is governor of California (of course) and their son, Mac, is at Bayside High, right where he should be.
Though Gosselaar didn't mark the big day on social media, he's been working on a podcast for the past year called Zack to the Future, where he's watching episodes of Saved by the Bell (which he hadn't done in 25 years since the show wrapped). He partners on the podcast with Dashiell Driscoll who is currently writing for the series reboot and wrote the Funny or Die series Zack Morris is Trash.
Of course, their love story wasn't without drama. You remember Jeff — the college sophomore who hired Kelly as a server at The Max and proceeded to capture her young heart. Zack and Kelly broke up for a beat and Jeff was called the "most hated man in 'Saved by the Bell' history," Patrick Muldoon, the actor who played Jeff, told TODAY.
Luckily, all's well that ends well, and Zack and Kelly are happily ever after — (at least in our '90s hearts). Happy #27, kids.