10 Airplane Coloring Pages For When You're Missing Out On Travel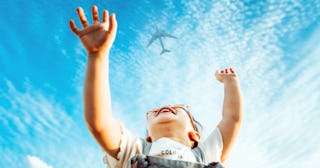 d3sign/Getty Images
Isn't air travel cool? Being on an airplane is perhaps the closest we'll ever feel to the birds in the sky. Even though the flight methods are different, it's always fascinating to look out an airplane window and see the world from a completely different view. As bad luck would have it, you probably haven't seen the inside of many airplanes recently — travel options remain limited due to the COVID-19 health crisis. But that's a good thing, in comparison to the health and safety of our loved ones. In the meantime, you can always utilize airplane coloring pages to get your wanderlust fix.
Airplane printables are the perfect way to stay occupied while you're on the phone with a travel agent (or your best friend) to plan that trip for 2022. Here are 10 amazing airplane coloring pages for you or your kids that'll remind you both of incredible past vacations, as well as the fun times that are ahead.
Free Airplane Coloring Pages
1. Plane No. 1
This plane is a lot of fun since it's already drawn to be in motion. That means that if you get creative with your shading, your airplane can almost look like it's animated. The sky also offers a lot of good options. Is it a sunny morning? Is a storm brewing? That's up to you to decide. What kind of airplane is it? If it's a Boeing, it took about six million pieces to build it. That's a lot of parts! And did you know only five percent of the world's population has been on a plane?
2. Plane No. 2
This plane looks like it's going places! Maybe to a dreamy beach locale? Help it get there in style with sleek shades of gray, or perhaps this might be the best time to break out those rarely used beige and off-white pencils for a realistic look. Speaking of colors, flight data recorders, which are commonly known as black boxes, aren't black — they're actually bright orange. Another fun fact? One of the busiest days for air travel was on July 24, 2019. More than 225,000 flights took off that day!
3. View From the Runway
Is there anything more exciting than a child's first plane ride? But also, is there anything more terrifying for parents than a child's first plane ride? Aside from being so far up in the air, it's tough to know how your child will respond to such a different setting. Ease their mind with this coloring page and a few encouraging words before your flight. Also, want to know the ickiest place on the plane? One hint — it's not the bathroom. It's actually the food tray. There are 2,155 bacterial units per square inch. That is both fascinating and incredibly gross. But here's a less yucky airplane food fact: The commercial airline Lufthansa buys more caviar for their company than any other business. Each year, their passengers eat about 10 tons of it.
4. Small Plane
Planes come in all shapes and sizes. But it's fair to say that passengers always get a bit scared when asked to board a tiny plane instead of a big one they expected. Fear not, and remind yourself that it takes pilots over two years to gain the 1,500 hours of flight time required before flying commercially. That's a lot of practice.
5. Propeller Plane
Propeller planes are especially fun to color. Out of all the airplane coloring pages so far, this is the first to include a tiny pilot.
6. Girl and Toy Plane
Is this a little girl whose mom happens to be a pilot? Or maybe she's a little girl who dreams of being a pilot someday. This coloring page boasts tons of tiny details to color in, like the buttons on her blouse and stickers on her suitcase.
7. Plane Tickets
If you could buy plane tickets right now, where would you want to go? You can personalize this coloring page and use it for your motivation board. Maybe it'll also serve as a good reminder to save money.
8. Plane Takes Off
Use your pinks, yellows, grays, and blues to create a gorgeous sunrise on this page. Or you could get adventurous coloring in the sun — a bold choice would be bright neon colors. Perhaps you could even create a story surrounding this particular flight. Here, we'll give you a prompt to get your creative juices flowing: "Anxiously making my way through the plane, I stopped to look at my ticket and back up at the number on the overhead compartment. Row 13. I'd heard that many planes don't have a row 13, so it seemed especially unlucky that I managed to find one that did… and end up in that row. And sure enough, the flight was full of misfortune…"
9. View From the Plane
Safe in the air and seatbelt-free, it seems like this young pair can't get enough of the view from above. For added fun, draw in something fun that the window seat passenger is pointing at out the window. We'd personally love to see Harry Potter flying by on his Firebolt broomstick!
10. Plane Flying Over the Mountains
It may seem like the plane is flying a little too close to the mountains, but consider coloring it in a way that adds more depth. Try to make the mountain range look far away while keeping the plane front and center. Wherever the plane is going, we hope the passengers brought warm clothes — those snow-capped peaks look chilly.
Click here to print all of the airplane coloring pages at once!
This article was originally published on