Amy Schumer Just Had Her Uterus And Appendix Removed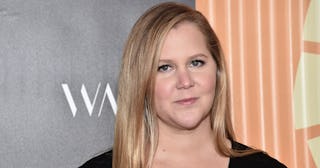 (Steven Ferdman / Getty Images Entertainment)
Amy Schumer revealed on her Instagram that she just had surgery to remove her uterus and appendix because of endometriosis.
Amy Schumer has never shied away from frank but important discussions surrounding her health — or anything, for that matter. The comedian and star of is something of an open book, and somehow, she always manages to tackle sensitive topics, like her husband's autism, her post-kids sex life, and everyday mom worries with a bit of humor. On Saturday, September 18, Schumer posted a photo and short video shot by hubby Chris Fischer, revealing that she had surgery to treat her endometriosis.
Endometriosis is a disorder that causes endometrial tissue, AKA the tissue that lines the uterus, to grow outside of the uterus. Not only can this be incredibly painful, but it also can lead to infertility and other health complications. "If you have really painful periods, you may have #endometriosis," Schumer captioned the post.
"It's the morning after my surgery for endometriosis and my uterus is out, the doctor found — babe — the doctor found 30, um, spots of endometriosis he removed, he removed my appendix because the endometriosis had attacked it," she said while resting in a hospital bed during her recovery.
"There was a lot, a lot of blood in my uterus, and um I'm, you know, sore, and I have some gas pains, but other than that, I already feel that my energy — " she laughs as the video cuts off. We assume that her energy has changed for the better, given her laughter.
Schumer's news was met with nothing but support and love from friends and fans alike. "Oh my goodness, 30?! So happy they are gone and you won't have pain anymore. Heal well Am! ❤️" said Debra Messing. "I'm so sorry Amy! Looks like life is about to get way less painful. But not less gassy," quipped singer Vanessa Carlton in the comments. Most wished Schumer a speedy recovery.
Schumer had already decided that she couldn't "ever be pregnant again," after her pregnancy complications with her son, Gene.
Prior to the surgery, Schumer had already made the decision that carrying a child would not be a part of her family planning. She had suffered from hyperemesis gravidarum, AKA severe morning sickness, that left her with no choice but to stop working and cancel shows when she was pregnant with Gene.
"I am in the hospital. I'm fine. Baby's fine but everyone who says the 2nd trimester is better is not telling the full story," she captioned a now-deleted Instagram post canceling a 2018 show in Texas. She further detailed her pregnancy complications in her HBOMax docuseries Expecting Amy. We're hoping that Schumer's health only improves post-surgery, and the stigma of discussing women's health continues to fade as more people like Schumer open up about their experience.