Ashley Graham Is Every 'Multitasking' Mom In New Breastfeeding Pic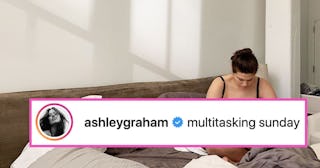 Ashley Graham/Instagram
Ashley Graham continues her crusade to normalize breastfeeding with another sweet photo
In just a few weeks of being a momma, Ashley Graham has become a powerful ally for breastfeeding moms. She's shared multiple photos of herself nursing her baby boy, Isaac, and in doing so, she's helping further the cause of normalizing public breastfeeding.
"Multitasking sunday," Graham captions her most recent nursing snap. The new mom is sitting cross-legged on a bed, Isaac latched on, scrolling her phone. If you've ever nursed a baby, you know this pose very, very well.
This isn't the first time we've seen Graham in her natural mom habitat. She recently shared a photo of herself in a coffee shop nursing Isaac without a care in the world. She's not including super long captions with the pics to justify or explain her behavior, which is amazing, because there's absolutely no need to do so. She's just out there showing the world (and most importantly, other moms) that there's no reason to hide or apologize. If your baby is hungry, you feed your baby.
But of course, nursing moms still have shit to do — as evidenced by Graham's latest pose. Phone in hand, we have no idea if she's doing something work-related or on a glorious mindless Insta scroll session, but honestly, both are equally important. Caring for a tiny baby is exhausting and constant work. Using nursing time to get something done or just plain take a break is so very necessary. Unless, of course, you have a toddler demanding your attention while their little sibling eats, in which case, hats off to you, momma. I've been there, and it's not easy.
Breastfeeding isn't the only new momma topic that Graham's touched on. She recently shared a photo of her post-baby stretch marks along with a simple but powerful message. "same me. few new stories," she writes.
In true Ashley Graham fashion, she's being super open about her new body and the brief caption that shows she feels zero shame about it — as she shouldn't. Our bodies go through something extraordinary when we give birth and beating ourselves up over a few stretch marks is simply unfair. Graham's positivity about these changes is so needed for other moms going through the same thing.
This article was originally published on