Terrific Two-Syllable Boy Names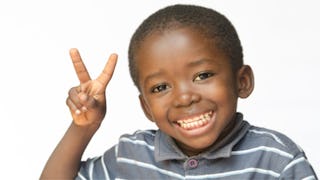 Riccardo Lennart Niels Mayer/Getty
Sometimes you need a specific number of syllables to keep the name flow strong. If that number is two, you're in luck! These two-syllable baby boy names pack just the one-two punch you need. And you're not alone in your search for them, either. According to the latest search data available to us, two-syllable boy names are searched for nearly 2,500 times per month.
Why would someone seek out such a specific sounding name? Perhaps you're looking for a punchy first name that rhymes with the last name. Perhaps you want a certain rhythm to the full name over all when taken together with the middle and surname. The reasons, much like the possibilities, are endless. Whatever they may be, we've gone ahead and done all the hard work of compiling a list for you.
Need more baby name ideas for your little tot? We've got comprehensive lists for middle names for boys, middle names for girls, one-syllable names, unique names for boys, unique names for girls, last names as first names, nicknames as first names for your little Ace, and so much more!
Curious to know more about your family name and in the last names and meanings of other countries, check out our package on last names from around the world. See how many you recognize: Irish, French, Russian, Spanish, Mexican, Brazilian, Portuguese, Italian, and African last names, among others.
Naming a baby can be scary. We can help! Check out our baby name database here.
Aaden
Aalin
Aarav
Aaron
Abdiel
Abel
Abner
Abram
Adam
Aden
Adler
Adley
Ahmad
Ahmed
Ahmir
Aidan
Aiden
Akilah
Alan
Alban
Albert
Albus
Alden
Alder
Aldo
Alec
Alex
Alfie
Alfred
Ali
Allan
Allen
Alto
Alvin
Ameer
Amir
Amos
Anchor
Anders
Andre
Andres
Andrew
Andry
Andy
Angel
Angel-unisex
Angus
Ansel
Anson
Antoine
Anton
Archer
Archie
Arden
Ares
Ari
Aries
Arjun
Arlo
Aron
Arrow
Arthur
Asa
Asher
Ashton
Aster
Aston
Astor
Atlas
Auden
August
Austin
Avi
Axel
Axton
Ayaan
Ayan
Aziz
Baldwin
Banner
Barack
Barrett
Bayard
Baylor
Bayou
Beacon
Beckett
Beckham
Bennett
Benson
Bentley
Benton
Berlin
Beta
Beto
Bexley
Billy
Bishop
Bjorn
Bobby
Bodhi
Booker
Boston
Bowden
Bowen
Bowie
Braden
Bradley
Brady
Brandon
Branson
Brantley
Braxton
Brayan
Brayden
Braylen
Brayson
Brecken
Brendan
Brenden
Brennan
Brentley
Brian
Briar
Bridger
Brio
Brixton
Brody
Brogan
Bronson
Bruin
Bruno
Bryan
Bryant
Brycen
Bryson
Buddy
Byron
Caden
Caesar
Caiden
Cairo
Caius
Caleb
Callan
Callen
Callum
Calvin
Calyx
Camden
Campbell
Camry
Canaan
Cannon
Canon
Canyon
Carbry
Carlos
Carson
Carter
Cary
Casen
Casey
Cason
Casper
Cayden
Cayson
Cedar
Cedric
Cesar
Chandler
Chandler-unisex
Channing
Charlie
Charlie-unisex
Chevy
Ciel
Cinder
Clayton
Clifford
Clinton
Cobain
Cobalt
Coda
Cody
Coen
Cohen
Colby
Coleman
Colin
Collins
Colson
Colton
Connor
Conrad
Cooper
Copper
Corbin
Corey
Corwin
Crispin
Crosby
Cullen
Curtis
Cyril
Cyrus
Dael
Dallas
Dallas-unisex
Dalton
Damon
Dana
Daniel
Danny
Dante
Darrell
Darren
Darwin
Dashiell
David
Davis
Dawson
Daxton
Dayton
Deacon
Decker
Declan
Dennis
Denver
Denzel
Derek
Derrick
Desi
Desmond
Devin
Devon
Dexter
Dillon
Dixon
Donald
Douglas
Draco
Draven
Dugan
Duncan
Dustin
Dusty
Dylan
Dylan-unisex
Eason
Easton
Eddie
Eden
Edgar
Edric
Edward
Edwin
Efrain
Egypt
Elan
Eli
Ellis
Ellis-unisex
Elton
Embry
Emir
Emmet
Emmett
Emre
Emrys
Ennis
Enoch
Enzo
Epic
Eric
Erik
Ernest
Errol
Esmond
Ethan
Eugene
Evan
Everest
Evren
Ewan
Ezra
Fable
Falcon
Fallon
Felix
Finley
Finley-unisex
Fisher
Fjord
Fletcher
Forrest
Foster
Francis
Franco
Francois
Frankie
Franklin
Freddie
Gabin
Gannon
Garnet
Garrett
Garrick
Gary
Gaspard
Gatlin
Gavin
Gerald
Gerard
Gibson
Gilbert
Gio
Gordon
Grady
Graham
Granger
Grayson
Greyson
Griffin
Gunnar
Gunner
Hakeem
Hamza
Harbor
Harlan
Harlem
Harley
Harold
Harper
Harris
Harry
Harvey
Hassan
Hatcher
Hawthorn
Hayden
Hector
Hendrix
Henri
Henry
Hershel
Holden
Honor
Houston
Howard
Hudson
Hugo
Hunter
Hunter-unisex
Huxley
Ian
Idris
Igor
Iker
Indy
Ira
Irving
Isa
Isaac
Isai
Ismael
Israel
Issac
Ivan
Iver
Jackie
Jackson
Jacob
Jaden
Jagger
Jago
Jaguar
Jahan
Jaiden
Jaime
Jairo
Jakob
Jamal
Jamir
Janek
Jared
Jarrett
Jason
Jasper
Java
Javon
Jaxon
Jayden
Jeffrey
Jehan
Jensen
Jermaine
Jerome
Jerry
Jesse
Jesus
Jetty
Jimmy
Joah
Joaquin
Joey
Johan
Johnny
Jonah
Jonas
Jorah
Jordan
Jordan-unisex
Jordy
Jorge
José
Joseph
Josue
Jovan
Judah
Judson
Juelz
Juneau
Junior
Justice
Justin
Justus
Kaden
Kairo
Kaiser
Kaison
Kaleb
Kalel
Kamden
Kannon
Kareem
Karson
Karter
Kashton
Kayson
Keagan
Keaton
Keegan
Keenan
Kellan
Kellen
Kelvin
Kendall
Kendrick
Kennedy
Kenneth
Kenny
Kenzo
Kerry
Kevin
Khalid
Khalil
Khari
Kian
Kiefer
Kieran
Kiernan
Kingsley
Kingston
Kirby
Kobe
Koda
Kohen
Kolton
Kulture
Kylan
Kylen
Kyler
Kylin
Kylo
Kyree
Kyrie
Kyro
Kyson
Lachlan
Laken
Lamar
Landon
Landry
Langston
Larry
Laurence
Lawrence
Lawson
Layton
Ledger
Legend
Leland
Lennon
Lennon-unisex
Lennox
Lennox-unisex
Leo
Leonard
Leroy
Levi
Lewis
Liam
Lincoln
Linden
Lochlan
Logan
Logic
Loki
London-unisex
Louie
Louis
Luca
Lucas
Lucien
Luis
Luka
Lumen
Madden
Maddox
Magnus
Maison
Major
Makai
Malcolm
Malik
Manuel
Marcel
Marco
Marcos
Marcus
Marley-unisex
Marlo
Marlon
Marquis
Marshall
Martin
Marvel
Marvin
Mason
Matthew
Maurice
Maxton
Maxwell
Mekhi
Melvin
Memphis
Mention
Mercer
Merit
Merrick
Meyer
Micah
Michael
Michel
Miguel
Milan
Milan-unisex
Miller
Milo
Mitchell
Moises
Monroe
Morgan
Moses
Moshe
Myles
Naji
Nasir
Natan
Nathan
Nayan
Negan
Nelson
Nero
Neville
Neymar
Nico
Niko
Nixon
Noah
Noble
Noe
Nolan
Oakley
Oakley-unisex
Ocean
Odin
Omar
Orson
Oscar
Otis
Otto
Owen
Pablo
Packard
Palmer
Parker
Parker-unisex
Pascal
Patrick
Paxton
Pedro
Percy
Peter
Peyton
Peyton-unisex
Pharaoh
Philip
Phillip
Phoenix
Phoenix-unisex
Pierre
Pixel
Porter
Preston
Princeton
Quentin
Quincy
Quinley
Quinton
Rafiq
Raiden
Ramon
Ramsay
Randall
Randy
Ranger
Rashad
Raul
Rayan
Rayden
Raylan
Raymond
Remy
Rene
Renner
Reuben
Revel
Reyansh
Rhythm
Richard
Ricky
Ridley
Riley
Riley-unisex
Riot
River
River-unisex
Robbie
Robert
Robin
Rocco
Rocket
Rocky
Rodney
Roger
Rohan
Roland
Roman
Ronald
Ronan
Ronin
Ronnie
Rory
Rory-unisex
Rowan
Rowen
Royal
Ruben
Rudy
Rufus
Russell
Ryan
Ryder
Ryker
Rylan
Ryland
Sabri
Sagan
Sailor
Salem
Samir
Samson
Sandy
Santos
Sasha
Savas
Sawyer
Sawyer-unisex
Schuyler
Seamus
Semaj
Seven
Shadow
Shawnie
Shepherd
Shiloh
Shiva
Silas
Silver
Simon
Sincere
Skipper
Skyden
Skyler
Solo
Sonny
Soren
Sorrel
Sparrow
Spencer
Sperry
Stanford
Stanley
Stefan
Stellan
Stephen
Sterling
Stetson
Steven
Stevie
Stylus
Sunny
Sutton
Talon
Tanner
Taryn
Tatum-unisex
Taurus
Taylor
Taylor-unisex
Teddy
Tegan
Terrell
Terrence
Terry
Tesla
Thatcher
Thayer
Theo
Theory
Thomas
Tiernan
Tiger
Timber
Titan
Titus
Toby
Tomas
Tommy
Tony
Topaz
Torin
Tourin
Travis
Trenton
Trevor
Tristan
Tristen
Tucker
Turner
Tyler
Tyreese
Tyrone
Tyson
Valor
Vander
Vano
Vanya
Victor
Vihaan
Vincent
Vivaan
Wagner
Walker
Wallace
Walter
Warner
Warren
Watson
Waylon
Werner
Wesley
Wesson
Westin
Westley
Weston
Wilbur
Wilder
Willie
Wilson
Winslow
Winston
Wyatt
Wyeth
Xander
Yahir
Yannick
Yosef
Yusuf
Zaiden
Zander
Zayden
Zion
This article was originally published on