50+ Mystical And Old Wiccan Names For Baby Name Inspiration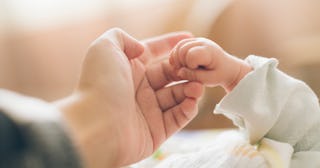 deng qiufeng/Getty
Looking for more inspiration and unconventional baby names for your little one? Check out our package on vampire names, creepy names, witch names, dragon names, wolf names, mermaid names, and fairy names, among others.
Does your baby give off a cool, quiet, and majestical vibe? It might be because they can't talk yet, or because they were just born with tranquil energy. Wiccan names are the perfect fit for this kind of personality, but if you're just into folkloric and earthy names that remind you of dark forests, sunsets, and moonlight in an open field, this is a great list to look over. The Wiccan practice is closely related to nature, however, if you're not into any of the culture or history and simply looking for a name that is not like the rest, you've hit the jackpot. In a class of 20 kids, there may be a few Matthews. This is not to say Matthew isn't an incredible choice, but if you want to give your kid a name their teacher will remember, check out our list.
Biblical, mythological, or literary names are always top contenders when naming a new babe in America. One need look no further than the annual list of top 100 names published by the Social Security Commission to know that's true. But what if none of those options strike your fancy? Luckily, the baby name options for parents are nearly limitless, with one such recourse being the wide pool of Wiccan names. While words like Wiccan, Pagan, or Druid may not seem familiar to some, for many people those words and the beliefs behind them represent a big part of their lives. It makes sense, then, that people who partake in those religions might want to honor their children using names from said practices.
And if someone is trying to discourage your decision to name your baby after a Wiccan because they're "evil," remember that isn't true. They have ethical codes that prevent them from harming others. According to Wicca for Life, they oppose the use of harmful magic and have a rule called the "Threefold Law." It says that whatever a person or Wiccan wishes upon someone else, they will get hit back with the same negativity threefold (if you've ever watched The Craft, this probably sounds familiar). It's also untrue that Wiccans are Satanists or that they believe in the devil. This is a common misconception since they believe in magic. They may believe in more than one God, but so do other popular religions like Buddhism and Hinduism.
Have you ever watched the witchy 90s series Charmed? Well, the Book of Shadows is a real thing. It's filled with spells, potion recipes, occult information, and rituals. In some Wicca cultures, the book and its knowledge are kept secret from people who are not part of the coven. However, there are other books out there that have been published and are available to the public like the "Wiccan Rede" and the "Charge of the Goddess." It's also true that Wiccans can write and create their own spells and rituals if they like, but the assumption that they dress like mainstream goths is a classic stereotype. With any group, special occasions call for special attire but Wiccans usually dress like your average joe.
Wiccans uphold European pagan rites and rituals and, of course, "Paganism" is a bit of a broad term. For nearly all of recorded history, "pagan" was simply a word used to represent religions unfamiliar to others, typically Christians. Modern Paganism or Neopaganism has a slightly more narrow focus. In most cases, though, Pagans are much more attuned to nature. This applies to Wiccans as well. As such, many names that are popular among modern Pagans are related to nature or space. From crystals to elements to Arthurian legend and space exploration, very little is off the table for expecting Pagan parents.
We especially love the earthy aspect of names chosen by Pagan and Wiccan parents. (Wiccan names, though, shouldn't be confused with "witchy" names.) The name Gaia, typically for a girl, means "Earth mother." And the Welsh name, Gwydion means "born of trees." Lovely, right? Then, of course, there are the more obviously nature-inspired names, like Willow, River, or Leaf. For us, those names immediately conjure the sweet image of muddy, chunky baby feet. Could there be a better thought?
So, how do you choose a name, then? Well, these are some of our favorites.
Adonis
Aiden
Albus
Amber
Amethyst
Angus
Ash
Athena
Aurora
Blade
Blossom
Bridget
Brynn
Castor
Celeste
Dahlia
Desmond
Elowen
Fern
Finn
Fiona
Flora
Forrest
Gaia
Graeme
Griffin
Hawk
Hayden
Hunter
Juniper
Kai
Keegan
Larissa
Lavender
Leigh
Llyr
Luna
Maeve
Oberon
Odin
Orion
Percy
Persephone
Pike
Puck
Raina
Rainbow
Raven
Reed
Rhiannon
River
Ronan
Rooke
Rowan
Stone
Thalia
Wade
West
Willow
Wolf
Wren
This article was originally published on