Basketball Coloring Pages That'll Score Big With Your Little Baller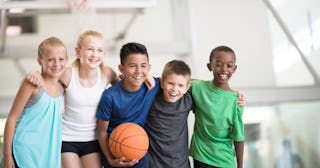 FatCamera/Getty Images
Hey "Basketball Mom!" Looking to keep your tiny baller busy inside on a cold day full of distractions for you? These fun, free, printable basketball coloring pages are perfect for your little Steph Curry or Sheryl Swoopes. While they're simple and easy enough for them to conquer with one orange crayon, there's plenty of room for artistic license, too.
Coloring is a vital skill for kids and actually teaches a ton of important lessons. Coloring obviously teaches, duh, coloring. But, there are so many other great lessons involved in coloring. Learning to stay inside the lines, for instance, not only teaches hand-eye coordination but also self-control. (Because who doesn't love going basketballs to the wall with all your might and just one crayon?!) Putting thought into coloring that ball something other than orange or to decorate the background behind a player broadens their imagination and helps with creativity. Who knew coloring could be so useful? Us! And, you know, actual scientists.
RELATED: The Best Kids Basketball Shoes, According To Pros — And Why It Matters, Anyway
If your kiddo blows through these basketball coloring pages before the end of the first quarter, fear not. We know coloring is an all-time favorite of kids and mamas alike. We've got a slew of other coloring page options just for your family. Spring is fast approaching, which makes these St. Patrick's Day and flower coloring pages all the more timely. Print one or one hundred of each and see how many crayons they can break in one afternoon.
Free Basketball Coloring Pages
1. Basketball
Simple? Sure. But not everyone is an accomplished colorer, capable of staying inside lines just yet. This easy design with the bold edge around the ball is perfect for even the tiniest of budding artists. Fun fact: Did you know the first basketball was actually a soccer ball? So, if you ever lose your basketball, a soccer ball might do the trick. Basketball sure has come a long way. The first NBA national television contract was signed during the 1953-1954 season between the NBA and Dumont Television Network.
2. Spinning Basketball
This little point guard is all smiles, just like you'll be when your kids squeal happily over their own special coloring pages. If you have time, maybe you can look up how to spin a ball on your finger and practice together once you're done with that Zoom meeting that should have been an email. Fun fact: The first basketball game was in Europe!
3. Basketball Play
Any idea what this play is called? Yeah, we don't either. Whatever. What we do know is that — just like the b-ball that started things off — this bold but simple graphic is easy to color by even your more amateur of artists. Later, maybe you can set up your little plastic hoop and try to act out this play, though. Earlier basketball games were actually pretty short. They were originally two 15-minute halves with five-minute rests in between.
4. Score
There are lots of things to color here, making it perfect for kids who are more advanced with crayons. You could add to the challenge by asking your kiddo to draw the arms and hands shooting the ball or by filling in the background. Another cool lesson from this printable? How to use those swooping lines to create motion in a still image! And you can make the basketball whatever color you like. The first basketball wasn't even orange. It was actually brown.
5. Basketball Hoop
Whose hoop do you think this is? Can your kids draw their favorite team's logo on the backboard? Help them out by showing them how to use Google to search out the image. (Or grab your favorite team cap off the coat hook.)
6. Grandpa Shooting Hoops
Look at that stance! Look at those kicks! Your grandpa's got game, girl. Does this super sweet, stippled image remind anyone else of those basketball scenes from Father of the Bride? He even looks like a bald Steve Martin, right?
7. Basketball Court
Here's yet another chance to turn a super easy coloring image into a drawing lesson by suggesting your artist decorate the court. You can take it a step further by teaching your little baller about the different positions, and asking them if they'd rather be a point guard or a forward. To think personal fouls weren't a thing until 1910! Until then, people could shoulder, push, and trip other players without being fouled. They might as well have called it tackle basketball.
8. Basketball Sneakers
Kevin Durant. Kobe Bryant. LeBron James. They've all designed their own basketball sneakers. What will your future MVP's shoes look like? Now is their chance to start designing.
9. Boy Playing Basketball
Oh, boy! We wish we looked this adorable kiddo when we shoot hoops. There's no sweat. No mean mugging. Just pure joy on that face. Probably because he knows he's about to make a three-point shot.
10. Basketball Shot
Speaking of shots… this one is clearly a game-winner. "He shoots! He scores!" comes to mind as the perfect caption for this easy-to-color basketball coloring page.
Click here to print all of the basketball coloring pages at once!
This article was originally published on