If You Still Have These Beanie Babies, You Could Strike It Rich
by Christina Marfice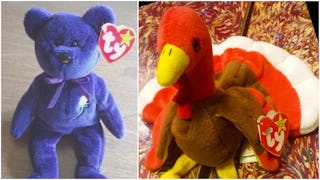 Images via eBay
Who knew holding onto your Beanie Babies stash for so many years could pay off?
Remember the '90s? When Saturday morning cartoons went great with sugary cereal (with nary a worry about carcinogenic pesticides), chunky highlights were in, and we all convinced ourselves a bunch of plastic-bead-filled stuffed animals were a viable retirement plan? Our collections of "rare" Beanie Babies, their pristine cardboard tags encased in plastic sleeves to protect their value, were supposed to help us strike it rich.
Welp, it turns out, they still can. If, for some reason, you still have certain Beanies around, they are actually, inexplicably worth money right now, in the year 2018. Some of them are worth serious money.
Sorry, everyone who watched their fall from popularity and chucked them into the garage sale bin. You may have missed out on a major payday, at least according to eBay. That's where the rarest and most valuable Beanie Babies are now traded, giving us some insight into which ones you can go searching your attic for if you want your own chance at winning this weird nostalgia lottery.
Large Wallace and his friends
This collection of bears, including "Large Wallace," two regular sized Wallaces, a Cashew bear and a Huggy bear, is currently listed on eBay for a whopping $680,000. It is just as the Beanie Babies prophesies foretold back in 1996 — these damn bears are an actual gold mine. 80 percent of that purchase price is set to go to natural disaster relief, so if you want to scoop up this set on the suspicion its value will continue to climb, you'll be doing a good thing for the world.
RELATED: '90s Toys That Are Worth Way More Than You Think – Fatherly
Princess Bear
You just knew Princess Diana's commemorative bear was making this list. This one, with one of those fancy, hard plastic tag protectors and a display case, is clearly in the kind of pristine condition that warrants its $675,000 price tag. Or something.
Large Ariel and her friends
If you thought the "large" bears were a gimmick when they were released, well, you weren't wrong. But now they're where the money's at. This "Large" Ariel, regular-sized Ariel, Issy and Peanut set is up for grabs for just $578,000.
Large Peace and his friends
For just the price of a McMansion in a lot of states (another thing the '90s told us was cool), you can get "Large" Peace, regular-sized Peace, Ringo and Bones. They're clearly a steal at just $358,000.
Bubbles
But who said just the bears would hold their value? Bubbles the fish is currently going for $176,000.
Blackie
The commemorative bears aren't the only ones that were worth keeping around. Blackie, the common black bear, still carries a price tag for a cool $50,000.
RELATED: We Just Caught Wind of Buttheads, the Cheeky Toys That Fart – THE DAD
Hippity
Or, if you have $50,000 to drop on a Beanie Baby and Blackie doesn't tickle your fancy, how about Hippity the weird green rabbit?
There are a number of other Beanies listed on eBay for well into the five figures, but we get that not everyone has that kind of budget for something you got for $4.99 at a Hallmark store two decades ago. So if you're interested in Beanie Babies as an investment, but want to start a little smaller, here are a few to consider.
Spangle
The American flag bear is apparently trying to convince us the American dream is still alive, since it's worth $1,289 in 2018.
Gobble
This turkey Beanie will only set you back the price of a reliable used sedan at $6,667. What a steal.
Snort
And Snort, the red bull, is currently selling for $7,500, AKA what a year of college tuition used to cost, back when Beanie Babies were actually a thing. It's like a fun throwback, right?
This is what we get for not having faith that our Beanie Babies really would hold their value like those collectors' coffee table books insisted they would. And if you do happen to have any that have survived being mauled by your kids/pets/the unrelenting passage of time, today could be your lucky day.
H/T: Good Housekeeping
This article was originally published on