79 Camp Songs To Sing 'Round The Fire That Kids Will Actually Love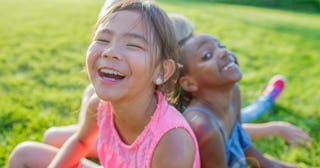 FatCamera/ Getty
Depending on where you live, almost any season can qualify as "campfire season," which is just an excuse to wear your coziest sweatshirt, roast those fat marshmallows over a fire, and sing some favorite tunes. If you're wrecking your brain trying to think of the perfect songs for just this occasion, we've gone ahead and listed some classic camp songs and singalongs that will sound familiar to kids — and adults — who went off to summer camp.
Camp songs have a funny way of staying in our brains (and hearts) for the rest of our lives but they also remind us a sweeter and simpler time. Give your kids the same musical childhood you had by teaching them some of your favorites. But if you're looking to add some new tunes to their campfire playlist, thankfully, we've compiled a list that are just as fun to croon to at a family get-together.
1. This Land Is Your Land
2. If I Had A Hammer
3. Home On The Range
4. When Johnny Comes Marching Home Again 5. Off We Go Into The Wild Blue Yonder 6. Camptown Races 7. Ain't No Flies On Us 8. The Bed Bug Song
9. The Ants Go Marching
10. Baby Bumble Bee 11. Froggie Went A Courtin' 12. Down By The Riverside 13. Do Your Ears Hang Low? 14. Going On A Bear Hunt 15. Kumbaya 16. Little Bunny Foo Foo 17. Oh, What A Beautiful Morning 18. Row Your Boat 19. Puff The Magic Dragon 20. Michael Row Your Boat Ashore 21. On Top Of Spaghetti 22. O Suzanna 23. Oh, My Darling Clementine
24. Say Say My Playmate
25. Kookaburra 26. There's A Hole In My Bucket 27. The Song That Never Ends 28. The More We Get Together 29. 99 Bottles Of Beer/Milk/Pop On The Wall 30. Acorn Brown 31. Baby Shark 32. Birdie Birdie 33. Down By The Bay
34. Over The River And Through The Woods
35. I Like To Eat/Apples and Bananas 36. The Name Game 37. John Jacob Jingleheimer Schmidt 38. Brown Eyed Girl 39. There Was An Old Lady Who Swallowed A Fly 40. I Went To The Animal Fair 41. A Bicycle Built For Two 42. You Are My Sunshine 43. Camp Granada 44. The Green Grass Grew All Around 45. Herman The Worm
46. She'll Be Comin' 'Round The Mountain
47. Take Me Home, Country Roads 48. The Campfire Song Song 49. Boom Chick-a Boom 50. Black Socks
Songs with Movement or Gestures
51. The Wheels On The Bus
52. Head, Shoulders, Knees And Toes 53. The Llama Song 54. Hokey Pokey 55. B-I-N-G-O 56. If You're Happy And You Know It 58. Little Red Wagon
59. Father Abraham
60. Swimming
Girl scout campfire songs
Now, if your little girl is headed off to girl scout camp, they might learn all of the songs above, but there are also a bunch of tunes that are reserved for the female camping experience. We've scoured the internet for some of the most popular songs your little princess is bound to hear in her bunk.
61. Brownie Smile Song
62. Rock the Boat 63. Kookaburra 64. Dum Dum Da Da 65. Say When 66. The Unicorn Song 67. Taps 68. Mmm, I Want to Linger 69. Where Have All The Daisies Gone 70. Brownie Stomp 71. The Princess Pat 72. Boom Chicka Boom 73. Hole In My Bucket 74. Everywhere We Go 75. There Was A Great Big Moose 76. Bazooka Bubblegum 77. Once I Met a Martian 78. Three Blind Jellyfish 79. 12 Days of Camp
Related: 182 Hilarious Jokes For Kids That Adults Find Funny Too
This article was originally published on