Thinking Of Getting Best Friend Tattoos? Read This First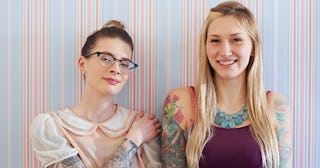 Dougal Waters/Getty Images
Remember those cute best-friend-4-ever necklaces from the days of yore? (And when we say 'yore,' we mean the '90s.) Well, they've gotten a major — and permanent — glow up because now best friend tattoos are all the rage. That's right, pals. If you're in it to win with your ride-or-die, you've graduated from your local Claire's to tattoo parlors. We get it: Tattoos, let alone matching tattoos, are a huge commitment. But unlike, say, your dating record, you and your BFF have stuck it out together through thick and thin. You know they're always going to be there for you no matter what, and vice versa. If that's not commitment, we don't know what is!
Just like any tattoo, once you've decided you're going to get inked with your bestie, it's time to consider the perfect tattoo design to commemorate this meaningful experience. Best friend tattoos should celebrate and symbolize your unique and fun friendship. Ahead, you'll find our tips on how to choose the best best friend tattoos, including everything you need to consider before booking your appointment. Plus, we included some ideas for you to choose from, so you'll have no regrets… only 'gramworthy envy.
How to Choose Your Best Friend Tattoo
Just because you're best friends doesn't mean you'll instantly agree on the perfect tattoo for your friendship — which is why you might want to take some time and go over some memorable things that help define your connection. Asking yourself the following:
What are some of your favorite memories together?
Did you once take a fabulous trip together?
Do you have a favorite food in common?
Do you share a common interest or hobby?
What first brought you together and cemented your bond?
What did you both watch when you were little?
At what age did you meet?
What's a secret you share?
What is something that makes you both laugh?
What movie do you enjoy watching together now?
Do you both share a motto that you live by?
What is your favorite animal?
What is the wildest thing you've ever done together? What is the symbol of that experience?
These questions will help determine which type of tattoo will truly feel best for both of you and symbolize what makes you best friends for life.
Determine the Placement and Size
Are you going to go big or go home when it comes to your ink, or would you rather choose something simple and small? Do you both want the same sized tattoo, or are you OK with it looking a little different from the other? In terms of placement, would you rather have them placed identically, or are you cool with choosing a place on the body that feels right to you individually?
Remember, it's totally OK if your best friend tattoos match, and it's also totally OK if they don't. The important thing is that the tattoos reflect both your unique tastes and sensibilities. It's also crucial to talk this out before your trip to the tattoo artist so that there are no surprises on the big day.
Best Friend Tattoo Ideas
When it comes to selecting the right best friend tattoo, here are some pretty and unique tattoo ideas that you will want to include on your Pinterest board for some inspiration.
Script of Your Catchphrase
Do you have a phrase that's so you guys? If so, consider scripting it with your own handwriting to make it even more personal.
Your Favorite Symbol
Are you both obsessed with butterflies? Do you both adore heart symbols? Consider taking what defines both of you and turning that into a badass tattoo.
Matching Symbols
Whether peanut butter and jelly or salt and pepper, matching symbols are always fun twists on the old "two peas in a pod" phrase (another cute tattoo idea, FWIW).
Your Favorite Activity
Is grabbing a cup of coffee your thing? You might consider inking tiny cups of coffee. Or maybe you're both avid globetrotters. Consider a mini airplane silhouette or a tiny globe. Take what you both love to do together and make it a unique tattoo.
Your Favorite Mutual TV Book/Show/Movie
Are you both Potterheads? Do you both love Friends? If you both share the same adoration for a favorite franchise or TV series, you might want to take a symbol from that and make it a tattoo that speaks to both of you.
Tattoos for Three
Besties come in all shapes, sizes, and quantities. But best friend tattoos aren't just for the Veronica and Betty's or Meredith Grey and Cristina Yangs of the world. We've got tattoos for three-group besties that capture trio love and trifecta energy. If your first thought was The Powerpuff Girls or Charmed, we've found the cutest designs for you.
You can't go wrong with this classic animated trio. Not only are these pint-size superheroes the best of friends, they're also sisters, which adds a little extra meaning to these colorful tats.
These tattoos look a lot like the Power of Three symbol. If you're a fan of the hit '90s show Charmed, you'll definitely see the resemblance. But even if you're not, it's still a very cute design.
This tat is very simple and unique at the same time. And if triangles aren't your favorite shape, you can change it to one you all like!