These Gifts Will Make Long-Distance Family Feel So Much Closer To Your Kids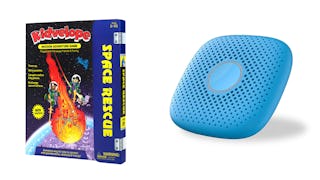 Image via Kidvelope/Amazon
Trying to stay close to long-distance family can be tough even for adults. But throw some fast-growing and ever-changing kids into the mix, and you've got a challenge on your hands when it comes to making Grandma or Aunt Karen feel like they're right down the street — when they're actually a whole plane ride away.
Relax. We've got you covered when it comes to fun (and unique) gifts that will foster a closer bond between your children and their long-distance family members. Because you can only give so many photo calendars before everyone's kind of bored.
Kidvelope Mission Adventure Game
Do you ever watch the awkward conversations your kids have with their grandparents or other distant loved ones on FaceTime or even the phone and wonder if there's a better way for them to stay in touch? Well, there is — and it looks like a ton of fun. It's called Kidvelope, and according to its creator, the game is "a new collaborative mission adventure game played offline and online, specifically designed to help kids build connections and deepen relationships with adult relatives (e.g. grandparents) who live far away."
It's not just a game played in person — the whole idea is in the correspondence. How much do you miss getting actual fun mail? And some of our kids probably haven't even experienced that! With Kidvelope, both adult relatives and kids get the chance to work together. "The Kidvelope activity kit helps kids and adult relatives learn more about each other through hands-on creative activities, fun back and forth mailings, digital games, and phone conversations – kicking off a multimedia experience between the generations! The more they do together, the more points they earn and prizes they win. Kidvelope combines the best of 'old school' communication and creativity with innovative digital elements that inspire imagination, self-expression, and thinking skills," the company explains.
This game helps bring family closer together by combining different elements of communication that appeal to both generations, all in the name of accomplishing fun "missions" together.
Bonus? The missions are always changing. "Each themed Kidvelope mission adventure is kicked off by kids receiving a robust loaded mission activity kit — in the mail or from stores. The first mission adventure is Space Rescue. More themed missions are coming soon–and can be purchased individually or via subscription."
Relay Kids Screenless Smartphone
A modern-day dilemma for parents is when (and if) to get their kids a Smartphone. If they don't have one, that means they're using a parent's to call family or friends, which is pretty annoying, not gonna lie. That's why we're loving this Relay Screenless Smartphone, "a screen-free, water-resistant, one-touch communication cell phone alternative" that allows you (or family) to contact your kids through an app. The device uses a 4G LTE network and WiFi so you and those long-distance loved ones can communicate with your child without them having an actual Smartphone. The Relay device also features built-in parental controls and GPS tracking, which can come in awfully handy in everyday life.
Your kiddo simply pushes the device's single button and talks into it with the message going to the app or another Relay device. Yup, it's like an old school walkie talkie – but sounds and looks about 1000 times better. You can help your child make new chat channels so they can talk to people other than you, and the whole thing is only $9.99 per month (the device is $49.99). It comes in five different colors and couldn't be easier to use, so how about hooking up the kids to Grandma, Grandpa, Aunt Shelly, and whoever else might appreciate one-button technology to have daily chats with your littles?
WiFi Cloud Digital Photo Frame
Can you think of something that would thrill a long-distance family member more than surprise updated photos of the kids just popping up in a cute digital frame? Neither can we. Give Nana and Papa the best gift — recent and frequent photos of their grandkids that they don't need to print out or steal from your Facebook page. With this digital frame from Nixplay, you can send photos directly to the frame using email or the iPhone/Android App. You can access photos across multiple platforms and store them securely on Nixplay cloud storage.
Perhaps the best part? You can sync the uploads to as many as five frames, which means both sets of grandparents and maybe a few aunts and uncles can get regular photo (and video!) updates of your kids.
Long Distance Friendship Lamp
OK, bear with us here — in these modern times, it's never been easier to keep in touch with loved ones. We can text, video call, or voice call any time we want. But there's something sweet and special about this Long Distance Friendship Lamp that tugs at our heartstrings. When you're thinking of someone, sometimes it's nice to just let them know and leave it at that, which is exactly what this magical lamp accomplishes. "When you turn one on with a simple touch of your hand, its mate emits the same ambient glow, no matter where it is and who is on the other end," the description reads.
RELATED: Gift Ideas For The Best Friend You Haven't Seen Since Quarantine 2020 Started (Or Longer)
The lamps are connected via Wi-Fi, so when one party touches the lamp, the other party's lamp lights up. With each touch, the lamp cycles through "a rainbow of colors," which will excite kids and adults alike. Since kids don't usually have access to phones or tablets at all hours of the day, this is a very fun way for them to stay connected to long-distance family members whenever they like. Bonus? They're super pretty.
Recordable Plush Toys
What could be more comforting to a little one than being able to snuggle a stuffed toy that also plays a short message from a much-loved family member? Luckily, there's no shortage in options for squeezable stuffies that also hold a little voice recorder that a family member can leave a message on. This adorable unicorn has space for 30 seconds of thoughts from Grandma or a favorite uncle.
And this dinosaur cuddle buddy allows for a 20-second message to be played as many times as your kiddo wants to hear it.
Not only will these very personalized toys be a sweet way to keep your kids connected to family, it also might help them nod back off after a 2am waking, which, everyone wins.
Thanks to modern technology, we have more ways than ever to keep those who love our littles close. Hopefully, these gift ideas mean 2019 will be a year for family to feel like your kids are right next door — no matter the distance.
Related: You'll Want To Snatch These Smart Toys
Fun Read: Knock, Knock! Who's There? Hilarious Jokes That Will Knock You Over
This article was originally published on