20+ Of The Best PS3 Games For Kids (And Parents Who Need A Break)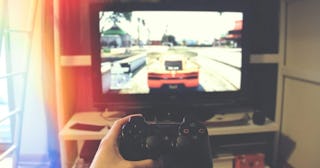 João Ferrão/Unsplash
Take a deep breath and repeat after me, "There's nothing wrong with the PS3. Gamer kids are good kids with good mamas. Screen time is not the devil." You don't believe me yet, do you?
Listen: Monitoring "screen time" is great for some families. Our family isn't one of those families and, if you're here, yours probably isn't, either. Welcome to the tribe, Mama. Sure, we're vaguely aware of how much more beneficial it can be for kids to spend time away from screens and, of course, we encourage that. But let's be honest here, a global pandemic, shut down schools, remote learning exclusively on screens, and closed playgrounds and parks has made the last year harder than ever. Children need to decompress from the stresses of their day just like the adults do, and if it's through (a sensible) amount of time playing video games you've pre-approved and are age-appropriate, then you need to cut yourself some slack. Just like us, you probably have some combination of things like water tables, games, arts bin, blocks, a ball pit and sensory bins. But, ya know what? This mama also works from home. Screen time is saving my sanity, patience, and family.
And I'm not alone. "Screen time saved my family" and "Video games keep us going" are a sentiment we hear echoed amongst all our friends and across the internet. Other parents swear that gaming systems saved their sanity.
Looking for a savior? These are the best PS3 games for kids, based on age.
PS3 Games Ages 5+
EyePet And Friends
You'll need to use the camera and the PSMove motion controller for this game, but it's totally worth it. You kids can create, care for, play with and train digital pets. It's especially fun as a parent to sit back and watch your kids try to navigate the virtual world while moving their real world bodies.
Just Dance Kids 2
This game uses the PSMove system and a great selection of music to encourage your kids to get up and move. How could you possibly feel guilty about letting them dance?
Toy Story Mania
Wanna feel like you're right back at Disney, in the Toy Story section? Toy Story Mania actually includes 30 mini games, many of which are inspired by the park attraction you're missing so badly this quarantine. Hey! Andy's coming!
Carnival Island
The world of Carnival Island is so bold and colorful. It's perfect play for the whole family.
PS3 Games Ages 7+
Disney Sing It
Think: Karaoke with Disney songs and stars. What could be better?
Minecraft
You probably already know what Minecraft is, right? It's available on nearly every gaming platform and is a huge hit with gamers of all ages. The gist is simple: World building and "zombie escaping." Don't worry — they're the world's least scary zombies.
Barbie And Her Sisters: Puppy Rescue
This is a bit of a sleeper hit. But, if you have a Barbie fan in your home, they're going to love it.
Katamari Forever
This was basically a "Greatest Hits" of Katamari game play for the PS3. Katamari is basically just a bunch of goofy looking characters on silly adventures. It's perfect for younger kids still getting the hang of video games.
Portal
If your kid likes puzzles and strategy, they'll love Portal. It might require some patience and guidance from mom and dad, though, if your kiddo isn't gifted in that area.
Create
Create is one part world (game building) building and two parts creativity. Best played by kids who are somewhat familiar with gaming already so they understand how you'd build a game level. But, it's fun to get the whole family involved in creating, solving and exploring.
Little Big Planet 2
Little Big Planet is a wildly popular game series. The main character is a lovable little guy, named Sackboy, that you must navigate through various levels.
Wonderbook: Walking With Dinosaurs
Got a budding paleontologist in your home? Feed that thirst for science and all things dinos with Wonderbooks: Walking With Dinosaurs. This educational and interactive game let's your little Ross Gellar explore the world when dinosaurs ruled the planet and adventure waited around every corner.
Disney Sing It
This karaoke game is best enjoyed with the whole family as your knowledge of classic Disney songs is put to the test. A perfect game for family night.
PS3 Games Ages 9+
Skylanders: Spyro's Adventure
Can your gamer save the residents of Skylander from known menace, KAOS? Only one way to find out…
Sonic Generations
Another "Greatest Hits" game collection released for your PS3 but this time with a face that's probably familiar to even moms and dads who don't game anymore.
Ratchet and Clank
Ratchet and Clank is, yes, a third-person shooter game. However, there's nothing realistic about the game, meaning that it doesn't feel as violent as games like Halo or Call of Duty which your kids may or may not eventually age into playing.
PS3 Games For Tweens/Teens
SingStar
Again with the karaoke? Heck yeah! You know your kids love to sing. Ultra Street Fighter IV This 2014 game is most definitely violent. However, it's only rated T. If you don't mind your teens playing fighting games, this one is well-reviewed and still pretty popular years later.
Destiny
Another T-rated game, Destiny isn't too far off from Halo. It's a first-person shooter where players try to protect Earth from alien invaders. There is also a fair number of role-playing elements involved. If your kiddo has their own D&D group, they might get a kick out of Destiny.
Shaun White Snowboarding
Is Shaun White as cool as he was 5-10 years ago? Eh. Not really. But, if have a teen who lives for the X Games, they'll no doubt love "practicing" their snowboarding moves with this game.
Naruto Ultimate Ninja Storm
Naruto isn't for everyone. However, we're guessing you already know that. If your teen is into Manga or Anime, though, they'll most likely get a kick out of this now-classic Naruto game.
This article was originally published on