Brendan Fraser Will Play The Villain In Upcoming 'Batgirl' Movie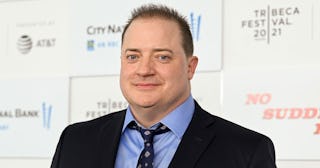 Evan Agostini/Invision/AP/Shutterstock
Brendan Fraser has a slew of incredible roles lined up, but his turn as the villain in Batgirl has fans understandably excited
One of the most unexpectedly delightful pop culture moments in recent times has no doubt been the renaissance of Brendan Fraser, who shared his heartbreaking #MeToo story back in 2018 and alleged that he'd been sexually assaulted by former Hollywood Foreign Press Association president Philip Berk back in 2003, which resulted in him retreating from his mega-watt film career.
Thankfully, Fraser is returning to our screens (though it's worth noting he's never left our hearts), in recent years appearing in multiple TV series and four movies as of 2019. Not only does he have four more movies in production right now, according to IMDb, but he also just landed an exciting new role in the upcoming Batgirl movie — and he's playing the villain.
The Hollywood Reporter confirmed that Fraser will play Firefly, a vengeful Gotham firefighter also known as Garfield Lynns in Batgirl. As a villain who loves wielding both pyrotechnics and power, it seems Fraser will go toe to toe with Batgirl herself, who will be portrayed in the film by In The Heights star Leslie Grace.
So far, not much about the film's plot or how Fraser's role will play out has been revealed, but the story will center on Gotham commissioner James Gordon's daughter Barbara Gordon, and fans are thrilled as it's one of the rare comic book adaptations to spotlight a female superhero.
Fan favorite J.K. Simmons will also return to portray Commissioner Gordon, reprising his role from 2017's Justice League. Fraser himself is already part of the DC universe, serving as the voice of cyborg superhero Cliff Steele on the Doom Patrol TV series, but it'll mark a major return for the beloved actor in a role most probably aren't used to him playing: the villain.
Of course, fans are so thrilled by the news of Fraser's casting as Firefly.
Batgirl doesn't yet have a release date, but it will seemingly be available to stream on HBO Max sometime next year. It certainly seems like 2022 will be the year we finally get all the Brendan Fraser we've been missing on our screens big and small, and we can't wait to see him switch things up and play the bad guy. Stay tuned for more info and, in the interim, stream The Mummy because it's still amazing even all these years later.