Cardi B Went Full Fangirl Meeting Robert Pattinson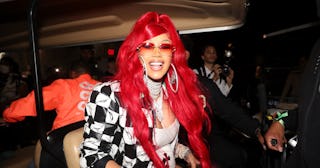 (Johnny Nunez / WirerImage via Getty Images)
Cardi B proved that even celebrities get starstruck when she met Robert Pattinson at a party this weekend
Cardi B is truly living her best life. Within the past two months, she's had her second baby, ruled Paris Fashion Week, and continued her amazing Facebook show, Cardi Tries. Her life seems to get even more exciting by the second, as she just met Robert Pattison for the first time — you know, Edward from Twilight, the soon-to-be Batman — and recorded her reaction for all to see, and honestly? The world is better for it.
"Look at my friend, guys!" Cardi says as Pattinson pops into frame and sticks out his tongue. Naturally, Cardi screams in excitement. She already looks giddy enough in the video, and her caption only adds to the authentic fangirl moment: "Look who I met the other day! I felt like a teen!"
The exciting moment happened at an event for British Vogue in Los Angeles, which the two attended along with the likes of Orlando Bloom, Katy Perry, Gabrielle Union, and more. We can only imagine Cardi's excited reactions as she mingled and met other fellow celebrities for the first time. According to Page Six, Wolfgang Puck offered Cardi cooking lessons as some point during the party, and all we ask is that a camera crew be present.
Fans were just as excited as Cardi about the newly formed friendship
One of the most magnetic parts of Cardi B is how damn genuine she is. There is no front, and seeing her sincerely geek out a bit is what many fans feel makes moments like this extra sweet.
https://twitter.com/jetpack/status/1456925892077359105
Others noted that Cardi might have just manifested this moment with a tweet from July of this year. Cardi, let us know what affirmations you use, please.
https://twitter.com/jetpack/status/1456874577573859332
Some issued warnings to both Cardi and Pattinson about one Joe Goldberg who has something of a jealousy problem, you could say. A day before meeting Pattinson, Cardi B received an ominous gift and note from the You character played by Penn Badgley. Cardi has become Joe's next obsession, and we all know what happens to anyone who gets in the way of being with a woman Joe Goldberg loves.
https://twitter.com/jetpack/status/1456879862786953221
"Hello, you… My stalking and killing may make me a certified freak, seven days a week, but it also brought me to… you," the note read. Watch out, Pattinson, you might be joining Offset in the soundproof box in the basement!
https://twitter.com/jetpack/status/1457008143955906561
Cardi, please don't ever change. The world needs your contagious enthusiasm and lust for life.