Ewan McGregor's Daughter Clara Walks Red Carpet Immediately After ER Visit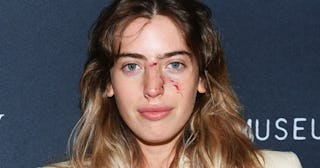 Bryan Steffy/Getty
Less than an hour before hitting the red carpet to celebrate her dad's big night, Ewan McGregor's daughter Clara was in the emergency room — and she has the gruesome battle scars to prove it
Plenty of celebs love to show off their super glamorous "getting ready" routines on social media before hitting the red carpet, but Ewan McGregor's daughter Clara certainly had a decidedly different experience over the weekend. The 25-year-old was on hand to celebrate the Las Vegas premiere of her dad's new movie, The Birthday Cake on Friday, June 11, revealing on Instagram that she'd suffered a dog bite and was in the emergency room just 30 minutes before the event.
McGregor shared a series of photos of herself on the red carpet (in a super chic cream Fendi suit, no less!) with several bloody marks on her nose and cheeks, including one shot of herself wearing her hospital bracelet and giving the middle finger — truly relatable for what sounds like it was a terrifying ordeal. In the caption of her post, which she shared on Sunday, June 13, she wrote, "When a dog bite lands you in the ER 30 mins before the red carpet😅."
Clara was a producer on the film, so she must've felt a special pull to show up but also, she was there for her dad. No doubt winning the "daughter of the year" award for managing to still make it to the ceremony and the after-party despite needing emergency medical care, she made sure to thank The Mob Museum in Las Vegas for hosting the event and Fendi for making her outfit. She also congratulated the team behind the film, which comes out in theaters and on VOD Friday, June 18.
Though McGregor didn't share any more details about the dog bite that landed her in the emergency room, it seems like she came out of the attack relatively unscathed — though the photos are definitely pretty gruesome and jarring. Here's hoping she was able to take time to rest and recover after her big night out. Famous commenters like Kaia Gerber and Shameless alum Jeremy Allen White summed it up best — Gerber called McGregor "so badass" and White wrote, "Looks tough." We agree on all counts.