Demi Lovato Is Helping Give Away 1000 Months Of Free Therapy
by Kristina Johnson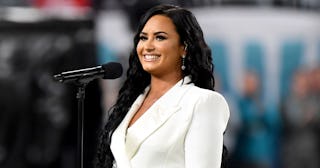 Jeff Kravitz/FilmMagic/Getty
Demi Lovato is partnering with TalkSpace to help more people access therapy
Mental health care has always been a problem in America — those who need it the most can often have the hardest time finding it, let alone affording it. Online therapy company TalkSpace is trying to close that accessibility gap through a new partnership with pop star Demi Lovato. The company is giving away 1,000 months of free therapy through the TalkSpace Access project.
The company estimates that about half of all Americans struggle with their mental health, and that about two-thirds of people with mental illnesses are not getting treated. The Covid-19 pandemic has only made that worse, inflicting stress and suffering. It also adds up to what TalkSpace calls "an unprecedented mental health crisis."
"We are doubling down on our efforts to make therapy and other mental health resources more accessible to the communities that need it most," the company said, noting that it will work with community organizations and non-profits to do so. The first donation recipient will be the Loveland Foundation, a group that works to get therapy services to communities of color with a special emphasis on Black women and girls.
Lovato said that targeting underserved populations is one of the most important aspects of the initiative. "Far too many people still can't find or afford quality mental health care, especially in communities of color. I am proud to partner with Talkspace to break down some of these barriers through this initiative… I hope we can improve access to care and break down stigmas in communities where the need is great and growing every day," they explained.
For Lovato, the cause is a personal one. The singer, who recently came out as non-binary, has been open about the work of healing and self-reflection they've been doing over the past few years with the help of therapists– especially following a near-fatal overdose in 2018. In a video for TalkSpace posted last year, Lovato discussed how that work has been. "Therapy helped me release my voice and find freedom — an inner freedom that I've been looking for a very young age."
Lovato hopes this new initiative can do the same for others. "From my time as a child actor and singer to growing up in the public eye — I've tried to remain true to myself and honest with my fans by sharing my story of struggle, hoping that whoever needs to hear it finds solace and inspiration for their own journey…We're all dealing with our own struggles, so it's important to arm ourselves with the right resources to not only live and manage — but thrive — every day," they said.