The Disney Fast Passes Low-Down For Your Post-Pandemic Fun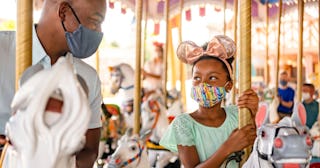 Courtesy Walt Disney World Resort
OK, so let's get this out of the way first: No, Disney World has not yet brought back the FastPass+ system. Alas, 'tis true. We, too, wish we were booking our Fast Passes right now in preparation for a trip to the parks. However, if being Disney fans has taught us anything, it's that the world is a magical place — especially when that world is Disney World. So, we're holding out hope this system will soon return. And, as a show of confidence, we decided to go ahead and share a few epic secrets and strategies for using Disney Fast Passes.
If you aren't even sure what Disney Fast Passes, or FastPasses are, don't fret; we'll explain that, too. Just know that when things go back to quote-unquote normal and FastPasses return, you're going to want to know how to make the most of 'em. With that said, here are our favorite Disney Fast Passes hacks (plus the fun ol' 4-1-1).
What are Disney Fast Passes?
A free — yes, we said free — service included with your park tickets, Disney Fast Passes essentially let you streamline your ride wait experience. You get to pre-book a "spot" for three rides or attractions at a time. This reservation system holds your spot in line so that, when you arrive in your designated reservation window, you get to wait in a shorter line as opposed to the standard (longer) queue.
When will Disney Fast Passes come back?
Unfortunately, there's no solid intel yet on when the FastPass+ system will return. As of right now, Disney World's site still reads: "As a result of COVID-19 impact on operations, the FastPass+ service is suspended for the time being. FastPass+ service is not offered with the purchase of tickets or annual passes. We will share future updates at a later date." It makes sense, given that social distancing restrictions mean the parks are operating (a) at a limited capacity and (b) need the extra space in line to maintain safe distances between guests.
What are the best secrets and strategies of Disney Fast Passes?
1. Download the App
Once you've booked your Disney trip, download the My Disney Experience app. It contains everything from park maps to showtimes and more. Included? The ability to book your Fast Passes. While you can also book Fast Passes on the Disney website and/or at limited Fast Pass stands around the park, the app is a super-easy way to keep track of your Fast Passes on the fly.
2. Book Your Passes ASAP
If you're staying in a Disney resort, you can book your Fast Passes 60 days out. If you aren't staying in a Disney resort and/or are a Disney Annual Passholder, you can book your Fast Passes starting at the 30-day-out mark. Get on the app and reserve your Fast Passes as soon as possible, because the popular rides and attractions book up fast. Don't see the ride or attraction you want? Book something. You can keep your eye out for what you want to open up, but you at least one a backup attraction on the books.
3. Prioritize Peak Times
You want to use your Fast Passes wisely, and that means not "wasting" them for a time when you wouldn't necessarily even need one. For example, if you arrive at the parks around an hour to half-an-hour before opening, you can do what's called a "rope drop" — which is just to say that you rush into the park as soon as they open, allowing you to hop from ride-to-ride while there are fewer guests. The parks generally are busiest between the hours of 10 a.m. to 3 p.m., so a smart Fast Pass strategy is to reserve Fast Passes for that window when lines are the longest.
4. Leave Room for Late Additions
Unless you're planning to hit the park only in the evening, try not to let your last Fast Pass extend past the 4 p.m. to 5 p.m. window. If you do, it'll make it more difficult to add additional Fast Passes on top of your original three. This brings us to our next point.
5. Layer Your Fast Passes
So, here's how it works: To start with, each guest gets to make three Fast Pass reservations. Each reservation will hold an hour-long window to use it. Once you've finished all three of the original Fast Passes, you can book three more. And once you finish those, you can book three more. Your only limiting factor here is how quickly you can roll through your existing Fast Passes and how many hours the parks are open.
6. Modify, Modify, Modify
On that note, one of the best strategies for making the most of your "unlimited" Fast Passes is to use the modify function. Once you scan your MagicBand to get on a ride using your Fast Pass, you can then hop on the app and start trying to modify your next Fast Pass. For example, let's say your first Fast Pass is at 10 a.m. and your second is scheduled for 11: 15. If you get on your first ride at 10:05 a.m, you know you'll be done well before 11:15 and can start looking for earlier times for your second Fast Pass. If you manage to snag a 10:30 a.m. time, you've just shaved 45 minutes off your wait time between rides.
7. #PoundTheApp
Arguably the most favorite tool in any WDW-goer's arsenal is pounding the app. What the Jiminy Cricket is that you ask? Well, it's when you refresh your My Disney Experience app constantly while in the Fast Pass section in the hopes you'll manage to get a last-minute Fast Pass to a hard-to-score ride. It doesn't always work — and it's kind of tedious — but don't knock it until you try it. Our family has managed to snag day-of Fast Passes for Flight of Passage, Slinky Dog Dash, Seven Dwarfs Mine Train, Soarin', and more this way.
Do celebrities wait in line at Disneyland?
Although anyone can get their hands on a Fast Pass, they still have a way of making you feel special. You may even feel like a celeb, which makes us wonder, what does the celebrity treatment look like in the happiest place on earth. Like everyone else, they probably have a pretty good time. They also rarely wait in line. And this isn't to flash their movie star status, but because it helps avoid crowds of admirers from forming. This doesn't mean some celebrities don't wait in line. They're also given special tour guides, and use hidden entrances and exits to move throughout the park.
What are the hardest reservations to get at Disney?
Disney may be a magical place, but booking certain restaurants can be a nightmare if you don't act fast. A fast pass won't save you here, so if you're looking to have a relaxing dinner after a day of rides, book these eateries in advance because they fill up fast!
Cinderella Castle
Inside Cinderella's Royal Table
Cinderella
Be Our Guest Restaurant in Magic Kingdom
Grand Ballroom
Le Cellier in Walt Disney World's EPCOT
Le Cellier Steakhouse
California Grill
What are some Disney Club 33 secrets?
The Disney Club 33 is a private dining club inside Disneyland park. It's modeled after executive lounges and was created in 1967. A few secrets about the club include their strict guidelines for members. If they're broken, membership can be revoked.
Reservations must be made a month in advance and can be canceled if members of the party are late.
Summer clothes are not allowed. Only people in evening wear and business suits can enter the dining area.
Many items in the restaurant have a special Club 33 engraving (including the plates and napkins!)
This article was originally published on