10 Elf Coloring Pages That'll Leave You Holly And Jolly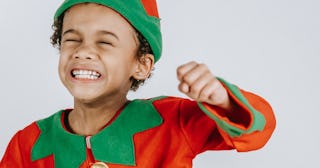 Marta Wave/Pexels
Want to know the best part about elf coloring pages? Aside from the fact they're adorable, of course? That you don't have to wait until winter to fill them out — elf coloring pages make a charming DIY kids' activity that you can do year-round. After all, many types of elves exist! That said, if you're the type of person who likes to buy Christmas decor in the summertime, these elf coloring pages will likely scratch an itch. And since they're free, you won't have to make any excuses as to why you simply couldn't wait for the seasons to change.
Another fun thing about elf coloring pages is that you can feel free to get creative. Elves come in all shapes, sizes, and colors. That means that they'll look great with whatever color scheme you dream up. Do elves need to be red and green? Not necessarily.
Of course, one of the best-known elves is Buddy the Elf from the movie Elf. To really get into the holiday spirit, try playing it in the background while dispersing these elf coloring pages to your family. And once you've finished these, keep the whimsical creativity going with our fairy coloring pages, mermaid coloring pages, dragon coloring pages, unicorn coloring pages, and castle coloring pages.
Free Printable Elf Coloring Pages
Elf Page No. 1
Know what would be a very elf-like addition to these coloring pages? Glitter. (Of course, glitter can be quite a messy craft supply if you're not careful. But that's what makes it so much fun!)
Elf Page No. 2
While coloring in these magical elves, it might be fun to think of a few elf facts. (Yes, elves may be fictional, but they have a rich history.) You probably know that most elves live at the North Pole to help Santa Claus make toys. But over half of the population of Iceland believe elves are real — some have even reported elf sightings in the wild. Also, did you know elves age much slower than humans? It's rumored they can live anywhere from 125 to 1,000 years old, and three human years is like one year to them. That's probably why they always look so cute and small!
Elf Page No. 3
Are there any colors that elves hate? Probably not, as Buddy the Elf's favorite way to answer a phone is to ask what the person calling's favorite color is. For the record, Buddy's favorite color happens to be purple, so that'd be a great color to choose to help design your elves.
Elf Page No. 4
Another fun activity you can do while coloring your elves? You can make cookies. It's a widely known fact that elves love sweets, so it'll be a great way to make the day even more memorable. If you want to decorate the background of any of these coloring pages, a candy cane-printed wallpaper would be an excellent choice. You can even add some Arctic foxes, narwhals, or reindeer, which are some of elves' favorite animals. But have you ever wondered where elves come from? These little gems come from Celtic and Scandinavian mythology.
Elf Page No. 5
Elves typically have pointy ears and rosy cheeks. But with elf coloring pages, you can add as much facial detail as you want. And sure, their standard wardrobe might be green and red. Maybe blue and pink would also add a lot of variety, though.
Elf Page No. 6
Have you ever heard of the word "huldufolk"? It means "hidden people," and it originated out of Iceland. (Iceland sure loves elves.) Folk tales describe these beings as being "large in build, their clothes are all grey, and their hair black." Luckily, you can change that up with these coloring pages and color them however you'd like.
Elf Page No. 7
Aside from making treats and helping with toys, elves are responsible for sorting Santa's many letters. It's a tough job but, naturally, all part of helping the big man in red. If you're looking for background detail to add to any of these pages, maybe a big blue mailbox would be great. (And, you can also decorate it with Christmas lights.)
Elf Page No. 8
Aside from Buddy, the second most famous elf is "Elf on the Shelf." If you're looking for a good way to ditch the tradition, you can always tell your kid that your elf has retired but sent over ten fantastic elf coloring pages to do in his absence. It's worth a shot, at least.
Elf Page No. 9
Ever try coloring in pastel elves? Giving your elves softer colors may set an all-new tone for your coloring page. Lavender or pale pink would be a great change-up and may imbue your page with more of a spring feel.
Elf Page No. 10
All of these pages offer a ton of different artistic takes. You might feel the need to print them out a second time, just to see how much variety you can get.
Click here to print all of the elf coloring pages at once!
This article was originally published on