Ellen Pompeo Says This Season Of 'Grey's' Might Be Their Last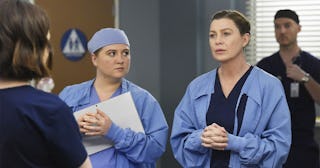 ABC
Mere weeks away from Grey's Anatomy's 17th season, Ellen Pompeo hints it could be the last
We're not ready to say it and you're surely not ready to hear it, but here goes: After 15 years and soon-to-be 17 seasons, Grey's Anatomy could be leaving the air in 2021. At least that's the heart-quickening hint that series star-slash-producer Ellen Pompeo just dropped in a new interview with Variety.
Granted, there have been rumors about the show ending before. But since Grey's creator Shonda Rhimes has made it abundantly clear the show will end when Pompeo says it's time, well, Pompeo's words may just keep us up at night.
Pompeo — who plays everyone's favorite faux surgeon, Meredith Grey — has been with the show since its beginning. In that time, it's become the longest-running primetime medical drama in TV history, surpassing even the previous seminal medical series, ER.
On Nov. 12, after what seems like a million-year break to us fans, the show will return for Season 17. However, Pompeo doesn't make any promises beyond that point. "We don't know when the show is really ending yet," she told Variety, adding, "But the truth is, this year could be it."
https://www.instagram.com/p/CGqCFVgJVNv/
Sorry, what?! After dropping that bomb, she must have felt the need to clarify (read: instill even more fear into fans' hearts). "I'm constantly fighting for the show as a whole to be as good as it can be. As a producer, I feel like I have permission to be able to do that. I mean, this is the last year of my contract right now. I don't know that this is the last year? But it could very well be."
Of course, Pompeo is a smart woman. She understands the potential reverb effect of her words, joking to the outlet, "There's your sound bite! There's your clickbait! ABC's on the phone!"
She also understands that her decision to leave, and thus end the show, doesn't just affect her. "I don't take the decision lightly. We employ a lot of people, and we have a huge platform. And I'm very grateful for it," she said, continuing, "You know, I'm just weighing out creatively what can we do."
Don't worry, though; Pompeo didn't solely deliver tentative doom. She teased one heck of a 17th season, too.
"I'm really, really, really excited about this season. It's probably going to be one of our best seasons ever. And I know that sounds nuts to say, but it's really true," she gushed. Bonus: That magic starts with the first episode. "I'll say the pilot episode to the season — girl, hold on. What nobody thinks we can continue to do, we have done. Hold on. That's all we're going to say about that!"
This article was originally published on