Andie MacDowell Served Perfect Witchy Vibes In A Leather Suit And Black Bra
At 65, the actress ruled the Paris Fashion Week runaway with all-natural hair and a bare midriff.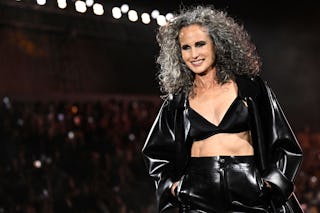 JULIEN DE ROSA/AFP/Getty Images
When it comes to aging in an appropriate way, women are often asked to walk a completely impossible line between staying youthful and sexy while also being matronly and respectful. The result is that many older women are criticized both for dressing in suggestive ways and for dressing in dowdy ways, both for trying to appear younger and for letting themselves age naturally. You just can't win.
And if you can't win, why not just be yourself?
This seems to be the conclusion that Andie MacDowell has chosen — and everyone is here for it.
The Groundhog Day actor hit the runway during Paris Fashion Week and it was more than obvious that she is comfortable in her own skin — and comfortable wearing nothing but a leather two-piece suit over a matching black bra.
Wearing her signature natural grey curls, smokey eyes, black sky-high platform shoes, and bare midriff, she was a walking poster board for what it's like to just be yourself and have fun. She also served an eye-opening look at what a fashion week can look like if people of all ages, shapes, backgrounds, and styles are included in the festivities.
The Maid star debuted the look at the L'Oreal Walk Your Worth show, which took place within the glow of the Eiffel Tower — it does not get more French than this.
Other notable stars like Eva Longoria, Kendall Jenner, Helen Mirren, Elle Fanning, Viola Davis, and Cindy Bruna also added their talents to the runway for the event. And it looks like they all had tons of fun.
This past spring, the Four Weddings And A Funeral star she opened up to Katie Couric about aging, and her choice to keep her locks grey.
"Working in your 30s is fantastic in my business. The casting is so much easier. And then it gets tougher," she said at the time. "There's a lot of relevance and truth to the aging face of a woman and the aging face of a man and how it affects your career."
But once she stopped fighting against aging, it felt right and it was right for her career, too.
"I'm so in my age, because my hair really does help that," she said. "As it was growing out, my eyes popped, the color of them looked a little different. I liked the way my skin looked better. And there was a feeling. It empowered me more. I felt more powerful and I felt more genuine and I felt more myself."
It let her be exactly who she was.
"What, do you think I look 75 just because I let my hair go gray... I don't care. I want to be old. I'm tired of trying to be young. I don't want to be young. I've been young," she said. "And to be an older person trying to be young? What an effort! It's a lot of effort. I'm already working on staying in shape, taking good care of my body, nourishing my skin, working on my brain. How much can I possibly do? I can't keep up with the charade! I can't!"
BRB, going to shop for black leather suits and bras.