Brittany Mahomes Shared Her Kid's Favorite Bath Toy & Now Everyone Wants One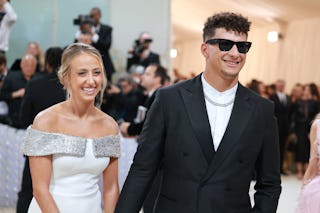 Theo Wargo/Getty Images Entertainment/Getty Images
We may receive a portion of sales if you purchase a product through a link in this article.
Brittany Mahomes is about to make a lot of kids' summers better. The fitness instructor and former pro-soccer player shared the cutest bath toy on her Instagram Stories — and it's both adorable and affordable.
The original toy is a mini "ice cream" maker that brilliantly allows kids to create their own soft serve using just a little soap and water. Kiddos can put soap (shampoo, body wash, or bubble bath all work) in the machine, jiggle a handle, and watch the soft serve "suds" fill up cones and top desserts (all included) down below.
Brittany and her equally athletic husband, Kansas City Chiefs quarterback and Super Bowl MVP Patrick Mahomes, share two kids, daughter Sterling Skye, 2, and son Patrick "Bronze" Lavon III, 9 months. The high school sweethearts are also minority-stake owners of the Kansas City Current women's soccer team.
"This thing keeps her so occupied in the bath yall, it's hilarious," Mahomes captured the picture, showing the ingenious toy in action in her tub. The tiny hand of Sterling is reaching out toward the toy from off frame.
The bath toy, which is made by AugToy, is appropriate for kids two and up, and has a few sturdy suction cups on the back so you can attach it to the smooth side of your tub. It's made from a durable, anti-mold plastic and is free of sharp edges that could be dangerous in a slippery bath.
Down in the comments, parents rave about their kids' new toy. Comments often mention its durability, how it helps kids want to take baths, and how it encourages them to get clean.
"My little loves this and it helps to get her clean at the same time. So far any soap I use seems to work fine," one parent writes. "This sticks to the bathtub with ease and I am so happy I bought this!"
"Do yourself a favor and buy it," another writes. "Keeps bath time fun and has held up for months with no issue.
"This is AMAZING if you have a baby or toddler that you need to get excited about bathing. I don't ever leave reviews, but I also have never got an item that actually exceeded my expectations. My 3 year old is actually excited about getting in the bath to make her foam desserts."
This one sounds like a winner — I kind of wish I had one to play with when I was a kid. Thanks for the tip, Brittany!