Brooke Shields Is So Done With Dieting, Botox, And The Gym
"It's boring and a waste of my time."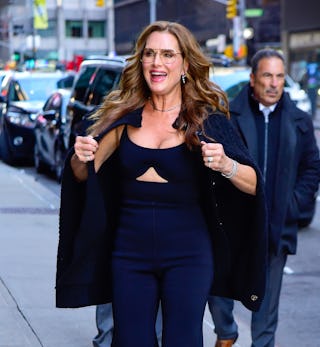 Raymond Hall/GC Images/Getty Images
Brooke Shields has been an unstoppable icon of beauty and fashion for decades. She is also so totally done trying to keep up any sort of artificial hold onto her youth. At 58, she is still all about dressing in fun clothes, making art, and embracing life, but she is in her complete and utter f*ck-it phase when it comes to caring about wrinkles, the perfect body, or saying the exact right thing.
And we are all here for it.
In a new interview with Glamour, in which she was chosen as one of their Women of the Year, she is very, very forward about how she's embracing life these days, and it's whatever the opposite of calorie counting and injectables is.
"I love food and I love alcohol and I love life and I want to be healthy for my heart," she said. "I don't like going to the gym. I like Pilates. That's where I am. And I am tired of not feeling skinny enough. It's boring and it's a waste of my time."
Can I get that quote as a tattoo, please?
Shields also put it in a more succinct way: "At this point I literally have such a f*cking attitude."
Yes!
While she might slightly miss having a "perfect" body, she has different priorities now.
"I wish stuff was a little higher, and I have a bit of a belly that I never had, and I could lose it if I really, really wanted to try, but I would rather spend that time having lunch, reading a book, walking, buying a piece of jewelry, going to my daughter's games," she said, referencing her two kids, Rowan Francis, 20, and Grier Hammond, 17, whom she shares with TV writer Chris Henchy.
How have people responded to the new Brooke who doesn't care so much about aging?
"People can't handle it. You're being put out to pasture, and it's ironic, and it's wrong and not fair," she said. "You look at the women who are over 40 — their history, their vibrance, their intelligence, their responsibility, their adaptability. They've raised families; they've run companies; they've been in multiple different types of relationships; they kept moving forward. We were the Amazons!"
With age, and motherhood, and a whole lot of life experiences, she's been able to let a lot of things go.
"Now I'm at this place which I don't think I dreamt I'd ever get to. I'm changing the narrative that I've been playing over in my head: not good enough, too famous, not this, not this, not this," she said. "I am so proud. I'm proud of my girls: two vibrant women who are going to be fine, who are unique and smart and funny and different. I feel lucky, and I do feel proud, because I know I had something to do with it."
Bottom line?
"I don't want to chase youth," she said. "I want to chase now."
How can we learn how to get this amazing attitude? Shields says she is working on a book about middle age.
"I want to know why I suddenly feel this surge of power," Shields told People in August. "Why am I finally emboldened to try new things? Why does our culture treat women 'of a certain age' like they're past their prime, while so many other cultures revere their elders? How can we approach this time as the new beginning it really is, rather than the beginning of the end?"
Would read!