Coco Austin Posted A Dance Video With Her Kid & The Mom Shamers Took Notice
The video shows 7-year-old Chanel slapping her mom's bottom.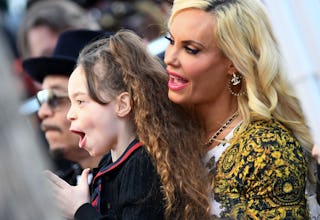 VALERIE MACON/AFP/Getty Images
Most moms have had the experience of being judged for their parenting at one time or another in their lives — but some moms who might look different or just dance to the beat of a different drummer face relentless comments and judgement even if they're keeping their kids loved and safe.
One of these celebrity moms is Coco Austin, who has been taken down by the Internet of Shaming Mothers for everything from bathing her kid in the sink to using a stroller for too long to breastfeeding her child for too long. The actor and TV personality, who shares 7-year-old daughter Chanel with husband Ice T, might look a bit different from a traditional mom, but the dump truck of judgement she gets whenever she opens up about her life seems out of proportion.
That was the case on Tuesday when Austin shared a cute video of a choreographed dance withe Chanel to the Black Eye Peas hit "Boom Boom Pow."
"Chanel always makes me do these weird dances I just go with it," Coco captioned the video. "I stole this from her phone to show you. Lol."
The video is cute; after all, many parents know how easy it is to be sucked in to your kids' next music video. But the responses to the reel focused heavily on a single moment when Chanel slapped Coco's booty.
"It is not appropriate for a little girl or her mother," one comment read.
"Heck no," another wrote.
Another person added, "How sad that that is the new training of parents to children, and worse, that is celebrated by the rest of society, that is why the world is the way it is."
And even those who excused the butt-slap found other stuff to nitpick.
"Ridiculous. She has a phone at her age? Inappropriate," one wrote.
Coco responded by not responding at all, which might just be the smart move in this moment. Because judgmental moms are going to judge, almost no matter what you do.
Austin and Ice T have been married since 2002 and renewed their vows in 2011. Chanel was born in 2015.
This is not even the first time the family has been in hot water over dance moves. During Christmas 2022, while sharing a holiday video, Chanel and Ice T were criticized for letting her kiddo twerk.
"I don't find this ok, especially on social media. There's so many sick minds out here, this child's safety and privacy should be kept better. But, to each their own," one person wrote. "It's weird when you guys sexualize kids," another commented.
That time, Coco did respond.
"Everyone is going to hate you anyway," she wrote. "So you might as well give them a reason."
Also in 2022, she broke down while a guest on The Tamron Hall Show, sharing how stressful it can be to mother in the limelight.
"I'm underneath a microscope all the time, and you don't hear what good you do," the Ice Loves Coco, 43, said. "You don't hear the goodness, you just hear a lot of bad," she explained. "And I know I'm a good mother. Putting everything aside, my career, everything, just for her … you just want a little love, you want a little respect from people."