Courteney Cox, Laura Dern, And Their Kids All Got Matching Tattoos
The tradition of the two families getting together over the holidays just escalated.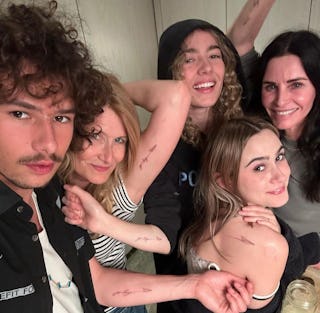 Instagram / Courteney Cox
Many parents grapple with teens who want to get tattoos as soon as they turn 18. But for A-list actors Courteney Cox and Laura Dern, they just want in on the fun.
As reported by the Friends legend herself on Instagram, Cox and Dern have a long-standing tradition of getting their families together for Christmas Eve. And this year, they decided to go all out and get inked as a group with matching tattoos to celebrate.
The pictures show Cox, 58, and Dern, 55, alongside Dern's son Ellery Harper, 21, Dern's daughter, Jaya, 18, and Cox's daughter Coco, 18. In the first selfie, shot by Ellery, they're standing hugging in a group. In the second one, they're all showing off their fresh ink.
The tattoo is a cute, minimalist picture of a paper plane flying through the air, with the words "go long" written in cursive. Dern got tattooed on her upper, inner arm, while most of the rest of the group chose their lower, inner arms. Coco mixed it up with a shoulder blade tattoo — that skipped the words and stuck with the paper plane.
"Adding a new layer to our 16 year Christmas Eve tradition," cox captioned the pictures. "Watch out… we might have sleeves by 2025."
Fellow celebs gushed about the group tattoos in the comments, with both Reese Witherspoon and Michelle Pfeiffer writing "Love!" and fellow Friends star Jennifer Aniston chiming in as well.
Cox also tagged tattoo artist Scott Campbell in the pics, implying that he provided the service.
Hangouts between the families are not limited to Christmas, either. In 2019, Cox shared another group picture, this time on the Fourth of July and this time including stars Suzanne Somers and Jennifer Aniston in addition to Dern.
"Happy 4th everyone! I'm lucky to be spending it with so many girls that I love," Cox wrote.
The tattoo trip was only made possible by both Coco and Jaya turning 18 in the past year, making them legal to get inked.
Cox has gotten tattoos before, too. Last year, she opened up on YouTube about two tattoos she really regrets: getting lash line tattoos on her eyelids that have faded to blue.
"I do a kind of messy but really close line towards my lashes. One of the reasons I have to do this is I got my eyes tattooed a long time ago and it's this weird blue, I hate it," she shared during a makeup tutorial. "I don't recommend that. So I have to cover it over with a brown to cut that blue, 'cause it looks so fake."
Sounds like this new ink will be more of a hit.