15 Meaningful Tattoos For Mothers That'll Make You Want More #MomInk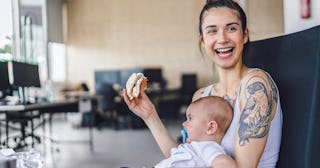 Westend61/Getty Images
If you're a mom, chances are you've considered getting a little body ink in tribute to that role. After all, motherhood is a massively meaningful milestone in life. When you're a parent, you carry that with you everywhere — a tattoo is simply an external way of expressing that. But between feedback from family and friends (often unsolicited) and the countless images on the internet, figuring out what sort of ink could serve as the best nod to your experience as a mom can seem impossible. As impossible as, well, getting your kid to go to brush their teeth or go to sleep without a fight. Fear not, though; there are plenty of tattoos for moms with meaning.
Even better? We rounded up some of the most special ones so that you don't have to go searching any further. You're a mom! We know you don't have time for that. Check out the following tattoos for moms with meaning to pick the perfect design for your next ink sesh (or at least give you a serious dose of inspiration).
Tattoos for Moms With Meaning
1. Mother Holding Her Child
As you can see, this design is pretty popular! And it makes sense, too — there are few things more life-affirming than the bonding between a mother and child that takes place during a loving embrace. Plus, you can always take a cue from these mamas and personalize yours with your baby's name.
2. Artwork Come to Life
We couldn't love this idea more if we tried. What mama doesn't want to preserve her child's artwork for posterity? Bonus: It makes narrowing down the subject of your tattoo super-simple.
3. Tiny Footprints
It's practically a scientific fact that tiny baby toes are among the most precious things on the face of the planet. So, stickin' those cute little tootsies on your body is a no-brainer. This also makes a beautiful choice for the mother who has lost a child.
4. Bright and Colorful
Seriously, these tattoos are like living pieces of art! The fact that they both embody the divine motherhood dichotomy of power and vulnerability makes them all the more stunning.
5. The Sweetest "Chicken Scratch"
Go ahead; you can say it — awwwww! We're right there with you. In general, we're fans of using handwriting as a tattoo font. This idea takes it a step further by incorporating the inherently charming "chicken scratch" of a child's penmanship.
6. Mama Bear
We've all got a little bit of mama bear inside of us, making this tattoo a universally appealing option. It's super-customizable, too, since you can add just the right number of "cubs" for you.
7. For the Love of Tots and Typography
Perhaps it's just our writers' hearts, but we can't help swooning over these typewriter-style tattoos. They're simple, chic, and perfect if you only want your child's name or initials.
8. Holding Hands
For ink that will tug at your heart every time you look at it, go for this mother-holding-her-child's-hand design. And we 100 percent recommend adding the vibrant red poppies that this tattoo artist added.
9. A Mama and Her Cub
The notion of a lioness and her cub resonates so deeply with mamas because, well, let's face it — we know what it means to be both fierce and nurturing. This tattoo is ideal for anyone who wants something that doesn't scream #MomTat.
10. Vintage-Modern Mom Vibes
https://www.instagram.com/p/BEMQgTUOSk2/
Yep, we can definitely see designs like this in our future! The modern-vintage aesthetic always plays well in tattoo form. The first idea nods to how mamas run on coffee, while the second incorporates an icon with personal meaning (the peach).
11. A Mama's Mantras
https://www.instagram.com/p/CLUc1UZsdUc/
While it would be nice if we always had full confidence in ourselves as mothers, the reality is it's easy to second guess yourself when you're raising tiny humans. Choose a quote that reminds you just how amazing you are — and that, no matter what, you'll always be a mama.
12. Small and Symbolic
https://www.instagram.com/p/BVAE8-rDRyv/
We're not saying that some of us get squeamish around tattoo guns, but — oh, who are we kidding? That's exactly what we're saying. But also, these small and subtle tattoos appeal to those of us who prefer a more minimalist aesthetic. What we love most about this style is that it's sort of like a tiny secret.
13. Wind Beneath Your Wings
You've seen butterfly tattoos before, obviously. But these butterfly tattoos are unique in that they use the space in the butterflies' wings to spell out names. So, if lovely butterflies are sort of your jam, this tattoo is calling your name.
14. Love Blooms Here
There are myriad ways that flowers make meaningful tattoos for moms. You could choose the monthly birth flower for your child or children. You could show the flowers' roots in honor of how rooted you are in your love for your child. You can even use flowers (again, we recommend flowers with some significance to your child) to cover up your stretch marks if that's something you want to try. Stretch marks are beautiful, Mama… but it's OK if you want to transform yours into body art, too.
15. Inspired By Movies and Literature
https://www.instagram.com/p/BrLtah0ht2G/
Welp, it's official; we're crying! There couldn't possibly be two examples from movies and books more stirring — or reflective of motherhood — than "Baby of Mine" from Dumbo and "The Giving Tree" by Shel Silverstein.
Mother-Daughter Tattoos
If your daughter is of age and you're both interested in getting some new ink, there's nothing cuter than matching mother-daughter tattoos! Here are few ideas you'll both love.
1. Hand holding
These matching tattoos just represent support and trust. Two hands holding each other not only represents your close bond, but is a symbol of love that won't take up too much space on your bodies.
2. Flower and petal
This tat gets a hundred points for creativity. Mama, you get the flower with the petal missing, while your daughter gets the petal. Why? Because this tattoo means your daughter will always be a beautiful piece of you. It's genius.
3. Watering can and flower
Mothers are the givers of life, and what better way to honor that than with a flower and watering can tattoo. Moms get the watering can tattoo while daughters get the flower. It's meant to represent how mothers nourish and support their children, even after they bloom. Because just like a flower will always need water, a daughter will always need her mama.