Demi Moore Is A Grandma — And Here's How She Feels About It
The actor's daughter, Rumer, welcomed a daughter earlier this month.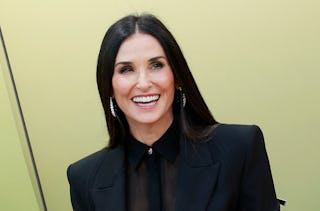 MICHAEL TRAN/AFP/Getty Images
Demi Moore promised in December that she'd soon be entering her "hot kooky unhinged grandma era," and now, with the birth of her first granddaughter, that era starts now.
Moore's daughter Rumer Willis (whom she shares with ex-husband Bruce Willis) and boyfriend, Derek Richard Thomas, welcomed their first child on April 18 and announced the birth on Wednesday, April 25, on Instagram.
"Louetta Isley Thomas Willis," the joint announcement reads. "You are pure magic. Born at home on Tuesday April 18th. You are more than we ever dreamed of."
The attached pictures shows a newborn with a pretty good head of dark hair happily snoozing on a baby recliner and snuggling in beige blankets.
Down in the comments, Moore was quick to gush.
"Pure love for this little birdie," she wrote, signing off with a heart emoji.
Moore wasn't the only proud grandmother, or the only A-list celebrity leaving congratulatory messages. Emma Heming Willis, the current wife of Bruce Willis, also chimed in as step-grandma: "OMG, we love her so so much," she wrote.
A parade of other famous accounts also left notes, including Hilary Duff, Claire Holt, Riley Keough, Nikki Reed, Melanie Griffith, Jenna Dewan, Alyssa Milano, Alison Brie, Christie Brinkley, Sharon Stone, and Ricky Lake.
Rumer Willis and her partner announced that they were expecting at the end of last year in a sweet post — the one in which Moore declared she would be a hot kooky grandmother. The pair announced their relationship in 2022.
"In the short time we've been together you have filled my life with joy and peace," he wrote on Instagram in August 2022. "Everything is just so easy with you. We sing, we dance, we play and most of all we laugh. Thank you for being you. You're a magical human. I'm so glad you came into my life."
It's the first grandchild for both Moore and Willis, who have long been known as co-parenting goals in Hollywood, often hanging out on holidays and maintaining a friendly relationship. They were married from 1987 to 2000.
In 2022, Bruce Willis began suffering from cognitive issues and in February, his family revealed that he has frontotemporal dementia. Since then, he has been out of the spotlight but surrounded by family.
Earlier this month, Rumer told People how excited everyone is for the first grandchild of the family.
"[My parents] are so excited," she said. "My sisters are so excited, and it's so fun to be bringing in the first grandkid in our family, especially because we're such a huge group at this point."
That's going to be one loved baby.