8 Fiction Food Novels That Will Feed Your Imagination (& Make You Hungry)
Warning: These books may cause food cravings and rumbling tummies.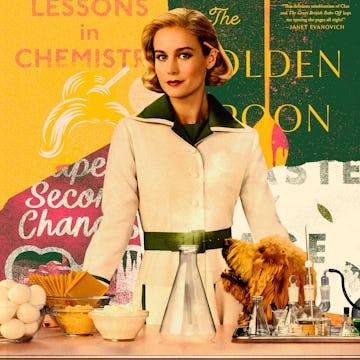 Ariela Basson/Scary Mommy; AppleTV+, Amazon
We may receive a portion of sales if you purchase a product through a link in this article.
The only thing better than a good book is a good book that includes homemade recipes. While romance books and heart-pumping thrillers are continuing to sell like hotcakes, there's a common subgenre denominator between the two that is also on the rise, and that's food. This is commonly illustrated in romance storylines, where the love interests are competing chefs or a food critic who falls in love with a restaurateur. Similarly, baking competition shows have lent themselves as an excellent premise for crime scenes.
However, fiction food novels aren't for the hungry. They'll leave you salivating and booking a flight to Italy to eat copious amounts of pasta and gelato — trust me. On the other hand, there's something inexplicably special about a recipe-filled book that isn't a cookbook. It's wholesome details like these that connect readers to characters, authors, and fellow foodie bookworms.
So, without further ado, take a bite out of these fiction food novels. Once your kitchen is a mess and your stomach full, check out this list of destination reads that will inspire your next dream vacation.
Bon appétit!
1. Lessons in Chemistry by Bonnie Garmus
Now an AppleTV+ miniseries, Lessons in Chemistry follows chemist Elizabeth Zott, who, after beating the sexist odds at Hastings Research Institute, not only falls in love with a Nobel Prize winner but makes a groundbreaking scientific discovery of her own. Fast forward, Elizabeth is now the reluctant host of a beloved cooking show, Supper at Six — but this isn't your average cooking show. Elizabeth isn't only delivering new recipes, she's shelling out feminist advice, too.
2. Recipe for Second Chances by Ali Rosen
In cookbook author Ali Rosen's fictional debut, two exes serendipitously reunite at a wedding 10 years later. It's hard not to fall back in love while vacationing against the gorgeous Italian countryside, and in the midst of a love-filled weekend nonetheless. But are oodles of pasta and gelato enough to bring them back together?
3. The Golden Spoon by Jessa Maxwell
In Maxwell's debut novel, six bakers gather at beloved baker Beth Martin's Vermont estate to compete on her TV series Bake Week. Each day, contestants are tasked with creating some sort of baked masterpiece under a time crunch using limited ingredients — and under the eyes of a whole camera crew. Bakers are challenged, judged, and eventually eliminated by Betsy and her new (and unwanted) co-host. But never in her 10 years as "America's Grandmother" has Betsy seen such lunacy unfold on her set. There's salt in the sugar shakers, fridge doors are creaking open, workstations are being tampered with... and then there's a murder. It appears winning Bake Week isn't the only thing on someone's agenda this season.
4. Arsenic and Adobo by Mia P. Manansala
Lila Macapagal's life zigzags into what's best described as "a Nora Ephron romp to an Agatha Christie case" after her ex-boyfriend, a food critic, is found dead following a kerfuffle concerning her Tita Rosie's restaurant. Lila's head is now literally on the chopping block, as is the family restaurant, with only her and her nosy aunties to save the day.
5. One More Croissant for the Road by Felicity Cloake
In One More Croissant For The Road, "the nation's taster-in-chief," Felicity Cloake, embarks on her own Tour de France, cycling 1,430 miles across France while tasting the most delectable dishes the country has to offer. Upon completing each "stage," Felicity shares a new and improved recipe for each dish.
6. A Taste of Sage by Yaffa S. Santos
When Lumi's Dominican restaurant closes, she begrudgingly lands a temporary position as sous chef at Julien Dax's high-brow French restaurant. Out of spite, Lumi refuses to indulge in Julien's cooking no matter how delicious it may be… until one day she gives in. As Lumi's admiration for Julien's culinary expertise grows, so do her romantic feelings. What was supposed to be a placeholder job is now becoming harder and harder to leave.
7. The Freedom Clause by Hannah Sloane
Attempting to spice up their sex life, college sweethearts Dominic and Daphne make a five-year pact: One night out of the year, over the course of the next five years, they each get to sleep with a total stranger. Confused yet also empowered, Daphne writes about her experience in an anonymous newsletter, and each entry is accompanied by a new recipe — some of which are Scary Mommy Book Club tested and approved!
8. Chef's Choice by TJ Alexander
Jean-Pierre is one fake girlfriend away from inheriting his grandfather's culinary empire. Enter: Luna O'Shea. She's broke, unemployed, and up for the role. Things are turning around, until the pair learn that they have to cook to perfection a catalog of family recipes. Oh, and did we mention that neither of them knows how to correctly use a chef's knife, let alone crack an egg?