Grimes Shares That She's Changed Her Daughter's Name From Exa Dark Sideræl
The new name is also a pretty original choice.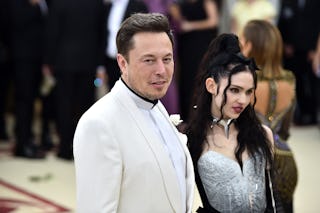 Theo Wargo/Getty Images Entertainment/Getty Images
According to the Social Security Administration, about 30,000 babies have had their names changed in the past five years. Parents give all sorts of explanations for the switch, from realizing they didn't like their first pick to "just knowing" that the name they loved didn't fit their particular baby. Just earlier this year, Kylie Jenner shared that her family changed their baby's name from Wolf to Aire, realizing it was a better fit.
Now, Grimes and Elon Musk — a couple very well known for their strange baby name choices — have decided to swap out one of their baby names.
Last week, the signer and producer posted a rare picture of her 1-year-old daughter, Exa Dark Sideræl, on Twitter, and shared an update on her name in a follow-up tweet.
"She's Y now, or "Why?" or just "?" (But the government won't recognize that). curiosity, the eternal question, .. and such."
It's not clear if the name change is legal, or if they've just switched over to a nickname, but one thing that's for sure is that it's less of a mouthful.
The name also now twins with her 2-year-old brother's name, X Æ A-12, who goes by X.
Grimes has explained that X stands for the unknown variable in math equations, Æ is elven for love, and A-12 stands for Archangel-12. Her daughter's original name also has quite a lot of meaning to it: "Exa" is a nod to the supercomputing term exaFLOPS, "Dark" is all about "the unknown," and Sideræl, pronounced "sigh-deer-ee-el" is a "more elven" spelling of sidereal, "the true time of the universe, star time, deep space time, not our relative earth time."
Anyone want to put bets on wether a third child could be called Z?
Grimes also explained the rare picture in a follow-up tweet: "Normally we post her for her privacy but she's fairly unrecognizable here since shes channeling Goku or smthn," she wrote of the shots, which show the pair dressed up in red onesies with neon-green hair.
The photo is captioned "Y & C" — Grimes was born Claire Boucher and goes by C, which also stands for the speed of light.
Grimes and billionaire businessman Elon Musk started dating in 2018 and have had an on-and-off relationship since then, though it seems they may have finally called off their romance after the birth of their daughter despite remaining on good terms as co-parents.