There's Going To Be A Hallmark Movie Christmas Cruise
And yes, there will be stars aboard.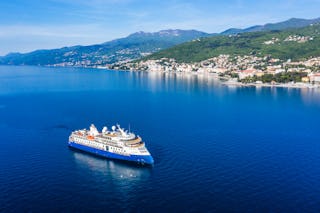 vuk8691/iStock Unreleased/Getty Images
If you like Hallmark Christmas movies and boats, this is your lucky day. The Hallmark Channel announced on Tuesday that it is hosting a Hallmark Christmas cruise — and it sounds totally amazing.
The five-day cruise will include games, events, a movie premiere and a lot of regulars from everyone's favorite Hallmark holiday romance flicks. Please excuse me, I must start packing my bags.
"We hear time and time again that people want to immerse themselves in the world of Hallmark Channel Christmas movies and this venture is sure to bring our brand to life in a new, captivating way," Natalie Vandergast, Hallmark Media's Vice President of Consumer Products, said in a press release for the cruise.
Here are more details: The boat, Norwegian Gem, will sail from November 5-9 in 2024 — and will depart from Miami to Nassau, Bahamas. The adventure will begin with a "Light the Night" tree lighting ceremony and then things just improve from there. While aboard, passengers will get to enjoy things like an ugly Christmas sweater contest, "carole-oke," Christmas cookie decorating, holiday crafting tables, a Hallmark Channel premium wine tasting (yes, they have official wine) and a meet-and-greet with the stars that includes an option for professional photographs. In addition, vacationers will also be able to attend the premiere of the Hallmark Channel's upcoming offering, Countdown To Christmas.
The specific stars who will be aboard haven't been announced yet, but at least we know Candace Cameron Bure will not be among them.
Ship-goers will get to spend a day on the sandy beaches of Nassau before heading back.
"Leave your puffy jacket and grab your Christmas spirit and passion for Hallmark Channel Christmas movies as we set sail on the most heartwarming, holly jolly experience on the high seas," Jeff Cuellar, Vice President of Events, Marketing & Community, told People.
To get in on the pre-sale for the Hallmark Channel Christmas Cruise, or just to get on the mailing list, visit hallmarkchannelcruise.com. Or join the official Facebook group.