Heather Rae Young El Moussa Is 'Trying Natural Ways' To Induce Labor
The 'Selling Sunset' star even got the famous salad that allegedly induces labor.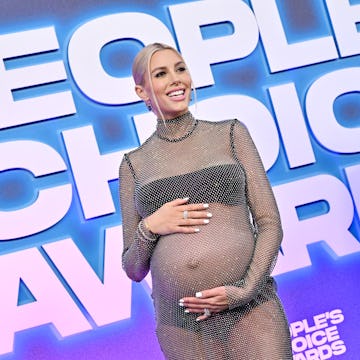 Axelle/Bauer-Griffin/FilmMagic/Getty Images
Pregnancy can be a beautiful, magical, experience, but as anyone nearing the 40-week mark can tell you, there comes a time when the magic starts to wane and the singular goal of finally getting this kid out takes over. Selling Sunset's Heather Rae El Moussa knows this all too well. The reality star took to TikTok to talk about all the ways she has been trying to naturally induce labor.
"I am just leaving acupuncture. I did acupuncture to induce labor, and I'll tell you guys a couple other things I've been doing," the 35-year-old star, who announced she was expecting her first child with husband Tarek El Moussa back in July 2022, , said in a Friday, January 27, Instagram Story video, per Us Weekly.
"[I've been eating] dates, [drinking] raspberry tea, I did pressure point massage. I'm going on a lot of walks, obviously some adult stuff, bouncing on exercise ball, [and] acupuncture," she explained.
The reality star has also been trying all sorts of exercises to induce labor.
"Like, when I do walks, I walk kind of, like, an up-down [on the curb] and walks on the sand as well," she said.
As of writing, none of the aforementioned labor-inducing tactics have worked for the reality star, but she's still got one trick up her sleeve: leafy greens, and lots of them.
"When your besties secure the famous 'labor salad' for me to bring to me tomorrow because it's hours from me," El Moussa wrote in a second snap, sharing a selfie of a friend outside the Caioti Pizza Café restaurant holding a romaine and watercress salad. This is known as "the salad," and the Studio City, California spot is frequently visited by pregnant people looking to kickstart labor.
"We have anywhere from five to twenty pregnant ladies a day come in and order The Salad. We have lots of tired looking men come in and get it to go," Caioti Pizza Café owner Carrie Ladou told Buzzfeed Bring Me back in 2017.
So far, no word on whether the many labor-inducing activities have worked or just left El Moussa with a whole list of failed (but entertaining) ways to get the birthing process started.