Jamie Lee Curtis Resonates With Tired Elder Millennials By Calling For "Matinee Concerts"
"What about a 12 noon concert, Coldplay?" Curtis joked.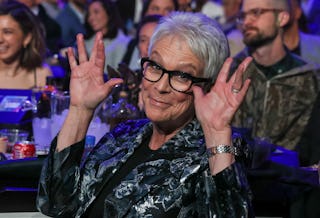 Rodin Eckenroth/Getty Images Entertainment/Getty Images
As a chronically tired mom, I don't get out much. It takes a really good musician (IMHO) to muster the strength to get ready, face the outside world, and then stand on my feet for two hours of openers before the main act makes their appearance around 9 PM.
By the time you're out of the congested parking lot, it's near midnight. And I just know my kid will wake up at 4:30 AM the next morning because that's just how the dice roll, baby.
Jamie Lee Curtis has come up with a rather brilliant idea that I can definitely get on board with to solve this problem — matinee concerts.
Speaking with The Hollywood Reporter at the Independent Spirit Awards, Curtis, 64, called on Coldplay, Bruce Springsteen, and U2 to consider putting on concerts earlier in the day so she can be in bed by 7:30 PM. Relatable.
"I am gonna just say this now as a taunt and as a suggestion. U2, do a matinee. Coldplay, do a matinee. What about a 12 noon concert, Coldplay? What about it?" the actress joked.
"Bruce Springsteen, do a f—ing matinee! You're old! Why wouldn't you let me come see you, Bruce Springsteen, in your glory days — pun intended — and do it at noon or one o'clock? Two o'clock! Two o'clock matinee!" she continued.
"Theatre in New York, two o'clock! I will come and hear your five-hour concert, Bruce, at two o'clock, and I'm gonna be home and in bed by 7:30."
She spoke further on her rather passionate feelings about late-night concerts during an interview with Today, calling out performers and letting them know she's "challenging" them to hold shows "during the day."
"Why are there no matinees?" Curtis asked. "For instance, I love Coldplay. I would love to go see Coldplay. The problem is, I'm not gonna go see Coldplay if they start their show at nine o'clock and there's an opening act. I want to hear Coldplay at 1 PM I think if we filled a stadium with people who want to see matinee of Coldplay, I think we would start a trend."
I would definitely be there with bells on.
The Everything Everywhere All at Once actor also shared with The Hollywood Reporter that she'd be absent for the the Oscars nominee dinner because "mommy goes to bed early."
"Now you might say, 'Jamie, you're nominated for an Academy Award. You're gonna be in the room with only nominees for the Academy Award,' and I have declined," she said.
She continued, "Why? Because mommy goes to bed early. 'Cause 7:30 is gonna be 9 before we get food, and you know what? There's nothing good happening with me after 9 o'clock. Nothing. Zero!"
Curtis is nominated for her outstanding supporting role in the critically acclaimed film, Everything Everywhere All at Once, the same Academy Awards category as her mother, Janet Leigh, in what she calls "a lineage link."
"You know, I didn't think about that," she said. "I mean, I knew it, I was aware of it. I never thought that would happen. Like my parents and their fame and their stardom was so legendary that I've never felt like I would be anywhere near the level. It's a beautiful link. It's a lineage link."