I'm like the crypt keeper
Yes, There's Officially Going To Be A 'Freaky Friday' Sequel
Both Jamie Lee Curtis and Lindsay Lohan are expected to reprise their roles from the 2003 film.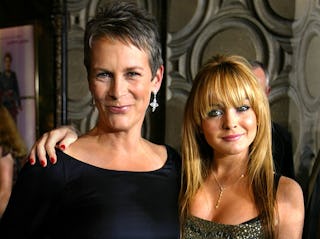 Carlo Allegri/Getty Images Entertainment/Getty Images
It's go time. Today, the Hollywood Reporter confirmed that the world will get a sequel to Freaky Friday, everyone's favorite body-swap film from 2002.
And more than that, both Jamie Lee Curtis and Lindsay Lohan are expected to reprise their lead roles in the classic, 20 years after it premiered.
Here's everything else we know about the Freaky Friday sequel so far:
Like the first one, it will be made by Disney.
Screenwriter Elyse Hollander (It Was Romance) wrote the script.
While we don't know when shooting will begin or when the movie will premiere, we do know that Lohan is pregnant with her first child — so there's probably a bit of waiting to do. Unless she's pregnant in the movie!?
Yesterday in The New York Times, Curtis explained why she wants to revive the movie.
"As I went around the world with Halloween Ends, people wanted to know if there was going to be another Freaky Friday. Something really touched a chord. When I came back, I called my friends at Disney and said, 'It feels like there's a movie to be made,'" Curtis said.
Curtis first threw out the idea of making a sequel to cult classic Freaky Friday in October 2022, while co-star Lohan responded in November saying that she'd be game too.
During an appearance on The Tonight Show Starring Jimmy Fallon on Lohan made it seem possible that one day Freaky Friday 2 could exist.
"We did speak about it, yeah," Lohan said. "Let's just take the fact that I was on set filming at the time, and Jamie Lee Curtis writes, and you just get excited and distracted immediately, so I had to bring myself down to Earth and be like, 'I'm on set, I have to focus.' Then she said Freaky Friday 2, and I got more excited."
So, what did she think about the prospect?
"We'd both be into it," she summaries. Yes!
Jamie Lee Curtis started all of this excitement when she visited The View in October to talk about the Oscar buzz going around for her role in Everything Everywhere All At Once as well as all of the projects she has coming up.
She was also asked about a sequel for the popular 2003 film Freaky Friday, and Jamie Lee said she's already on it.
When asked by co-host Sarah Haines if she would be open to doing a second movie, the Halloween star responded, "I've already written to Disney, my friends at Disney. I'm in their new 'Haunted Mansion' movie."
While the hosts and Jamie joked about her preference for spooky projects, she pivoted back to the topic at hand, saying, "creatively, I am wide open. Lindsay Lohan and me back in Freaky Friday, it's all good, bring it."
"Let me be the grandma. So then Lindsay gets to be the sexy grandma, who is still happy with Mark Harmon in all the ways you would be happy with Mark Harmon… And simply, I would like to see Lindsay be the hot grandma, and I would like to see me try to deal with toddlers today. I wanna be a helicopter parent in today's world, as an old lady."
Why is this all coming up now? A lot of it has to do with the fact that Lohan has officially returned to acting. The Confessions of a Teenaged Drama Queen star is trending on Netflix this week for her new holiday film, Falling For Christmas.
This is Lohan's first lead role since 2013, apart from her reality tv show aired in 2019, Lindsay Lohan's Beachclub, which followed the actress expanding her entrepreneur business in Greece by buying and running an exclusive beach club.
"I wanted to do something where people felt like I hadn't left," she told Who What Wear this week. "You know a lot of people say 'comeback' and stuff, and that puts a lot of pressure on the situation, and I'm not one that wants that attention. I'm not the kind of person that thinks about the movies I've done and how well versed I am in this industry."
While we are getting doses of both Jamie Lee Curtis and Lindsay Lohan this year, the duo reappearing in Freaky Friday sequel will certainly be the icing on the cake.
This article was originally published on