Jessica Simpson Explains Why Her Kids Don't Know What Calories Are
"I just think it doesn't need to be a conversation."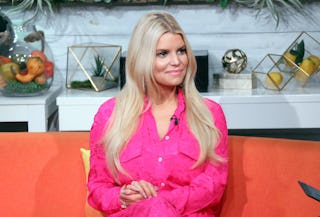 Jim Spellman/Getty Images Entertainment/Getty Images
Jessica Simpson doesn't want to talk about weight. She's done defending her body. She's over answering questions about her 100-pound weight loss a few years ago. She just wants to keep killing the entrepreneurship game and continue being a good mom.
The singer and author, 43, recently revealed that she wants to change the narrative around body image, weight, and physical appearances.
"I think that more than weight that people have focused on, we need to focus on our mentality about even talking about weight," Simpson told Access Hollywood during an interview. "I just think it doesn't need to be a conversation."
Simpson shared that when talking about food and weight around her children, she treads lightly.
"Everyone talks about 'Oooh, I shouldn't eat this many calories. My kids are like, 'What are calories?' I try to not complain about myself in front of them, I try to not diet, I try to not do any of that stuff," said Simpson.
"They just see me living a healthy lifestyle."
Simpson also admitted that while her kids may not know what calories in food are, they do see how much of a microscope their mom has been under for years regarding her appearance and weight. She says that her kids don't understand the discourse.
"My kids see me still being scrutinized, and it's very confusing to them," Simpson shared.
The "With You" singer told Access Hollywood that she tries to instill confidence in her kids, telling them not to worry about what anyone else thinks about how they look. Instead, it's about how they feel about themselves.
She spoke about her 11-year-old daughter, Maxwell, who already notices a difference in herself and her classmates.
"You don't dress for anybody else, you don't try to look like anybody else. Maxwell's the tallest in her grade, and she's like 'Should I be insecure?' I said, 'the fact that you're asking me if you should be insecure means absolutely not," added Simpson.
"You're comfortable. Stay comfortable. You be you."
Last month, Simpson opened up to Bustle about the constant conversation around her weight, including the hot topic of conversation right now for every celebrity shrinking in size: Are they on Ozempic?
Simpson revealed that when she got sober in 2017, weight loss just kind of came with sobriety.
"Oh Lord. I mean, it is not [Ozempic]. It's willpower," she shared with the outlet. "I'm like, do people want me to be drinking again? Because that's when I was heavier. Or they want me to be having another baby? My body can't do it."
When you're in a "can't win" type situation like Simpson, the best thing you can do is just screw the haters, live your life on your terms, and instill a healthy idea of body image to your kids which is exactly what Simpson is doing.
Considering how insanely awful she was treated back in the day, Simpson's huge strides towards a body positive mindset is truly something to aspire to. And passing on a better way to live to her kids is even more important.